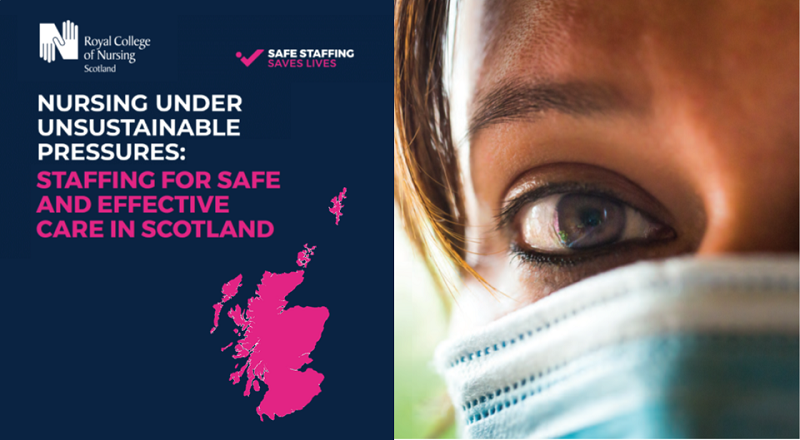 Almost nine in 10 (86%) nursing staff from Scotland said that the staffing levels on their last shift were not sufficient to meet the needs of patients safely and effectively.
The findings show that less than a quarter (23%) of shifts had the planned number of registered nurses on shift.
New findings from the Royal College of Nursing (RCN) released today (Monday 6 June) for the start of its annual conference in Glasgow, shine a light on the impact of the UK's nursing staff shortage and highlights the urgent need to implement Scotland's safe staffing legislation.
In her keynote address to the RCN's Congress today, the College's General Secretary and Chief Executive Pat Cullen will speak to nurses' growing concerns over patient safety. She will call for action and say the shortages pose a risk to patient care.
At the College's first in-person Congress since the pandemic, over 2,000 frontline nursing staff will participate in the event in Glasgow to address the issues faced by the profession.
More than 2,300 nursing staff from across Scotland's health and care services responded to the RCN's survey in March this year. Of those, almost nine in 10 (86%) said that the staffing levels on their last shift were not sufficient to meet all the needs and dependency of their patients safely and effectively and nearly 70% said that patient care was compromised as a result.
The findings show that less than a quarter (23%) of shifts had the planned number of registered nurses on shift and around a third (34%) had the planned number of nursing support staff on shift.
The College will today hear how its members' experiences demonstrate the risk posed to patient care and call on members to be vigilant in sounding the alarm in their care settings. They will recall Scotland's First Minister's promise to enshrine safe staffing in law, made the last time RCN Congress was in Glasgow in 2016. They will mark the three-year anniversary of Scotland's safe staffing legislation (the Health and Care (Staffing) (Scotland) Act 2019) becoming law by calling for the urgent implementation of the Act.
Chair, RCN Scotland Board, Julie Lamberth, said:
"Three years ago today we thought progress was being made as Scotland's ground-breaking safe staffing legislation received Royal Assent. But three years on and members are telling us about the very real concerns they have for the safety of their patients and residents and their own wellbeing - yet the Act has still to be implemented.
"Urgent action is needed to protect patient safety, address staff shortages and demonstrate that the nursing workforce is valued as a safety critical profession."
Speaking about the report in her speech to RCN members RCN General Secretary and Chief Executive, Pat Cullen, will say:
"Our new report lays bare the state of health and care services across the UK. It shows the shortages that force you to go even more than the extra mile and that, when the shortages are greatest, you are forced to leave patient care undone.
"Don't ever think that it is normal to not have enough staff to meet the needs of patients. It is not. Today, members are letting the full truth be known - nursing is saying loud and clear that enough is enough. If there was ever a time to break this cycle – it is now.
"It is your professional duty to be concerned about unsafe staffing and we have your back. Twenty-five thousand registered nurses left last year – a sharp rise on the year before, at the very moment we cannot afford to lose a single individual. The pressure is too great and the reward too little.
"Nursing staff are being driven out by the current way of working - the shortage of staff and too often the poor culture.
"To those from government listening to my words – we have had enough. The patients and those we care for have had enough.
"We're tired, fed up, demoralised and some of us are leaving the profession because we have lost hope. Do something about it – we are not going away."
A community staff nurse from Scotland quoted in the RCN's Nursing Under Unsustainable Pressures report said:
"I absolutely love my job, but I'm so heartbroken by the fact that I know I can't provide care I would like right now that I'm no longer sure that I can carry on myself without physically and mentally burning out.
"I'm worried about the future for myself, my colleagues and most of all my patients and their loved ones."
RCN Scotland is calling for urgent action to address the challenges facing the nursing workforce, this includes a clear timetable for implementation of the Health and Care (Staffing) (Scotland) Act, fair pay, good employment terms and safe working conditions for nursing staff wherever they work, and improved data collection and workforce planning to ensure a health and care nursing workforce that can meet the needs of the population.
In the UK wide survey of over 20,000 nursing and midwifery staff carried out by the RCN in March 2022, respondents were asked to report on the staffing levels on their last shift. The survey, previously carried out in 2017 and 2020, has revealed the stark impact the COVID-19 pandemic has had on staffing levels, as well as the workplace culture, diversity and morale of the UK's health and care staff.
In Scotland, nearly 40% of staff were unable to take their breaks and 62% worked additional time, with 63% stating they felt exhausted and negative during their last shift. Only 16% agreed that they had enough time to provide the level of care they would like.