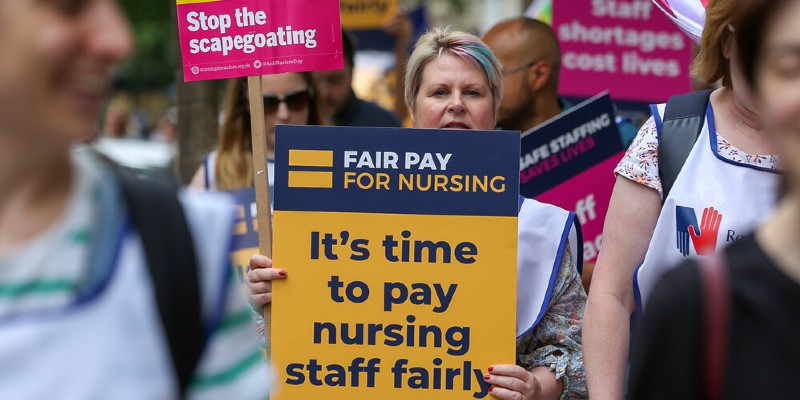 In the House of Commons last night (11 July), MPs voted to approve regulations to allow employers across all sectors to use agency staff to replace striking workers, and to increase the level of damages a court can award in the case of unlawful strike action.
We believe it's a deliberate attempt to make strike action ineffective and will only serve to undermine the rights of union members to stand up for better pay and working conditions. Furthermore, it could put patients at risk in the event of industrial action in the health care sector.
RCN Director of Employment Relations and Legal Services Joanne Galbraith-Marten said: "This week, the public showed that they support nursing staff taking action to get the pay rise they deserve. Yet the proposals passed in the House of Commons, seeking to undermine potential industrial action, are deeply undemocratic and unsafe for patients.
"Health professionals already face the most draconian anti-trade union laws. Any industrial action by our members is very carefully planned to keep patients safe already – bringing in less qualified or agency workers instead could put patients at risk.
"Silencing health workers silences the patient voice too."
This vote will now be discussed in the House of Lords next week and will need to be passed for it to become law. Joanne added: "The House of Lords now have the chance to do the right thing and halt this cynical attack on nursing staff and patients."
The UK government is pressing forward with raising the maximum damages courts can award against a union should strike action be determined to be unlawful. The cap, which has been in place since 1982, will be raised from £250,000 to £1 million.
NHS nursing staff on Agenda for Change terms and conditions in England are currently awaiting an overdue pay award from the UK government. Once an announcement is made, members will be consulted on next steps.
The announcement for England may have an impact on the money available for NHS Agenda for Change pay in Northern Ireland, Scotland and Wales. The Scottish government recently offered the majority of NHS staff a 5% pay increase on Agenda for Change terms and conditions. Staff on band 1 and point 1 on band 2 would receive 5.36% and 5.05% respectively.
RCN Scotland is now balloting members to ask whether this pay offer is acceptable or unacceptable. Members are also being asked whether they would be personally willing to take industrial action, up to and including strike action, in response to the pay offer if a majority of members vote to reject this offer.