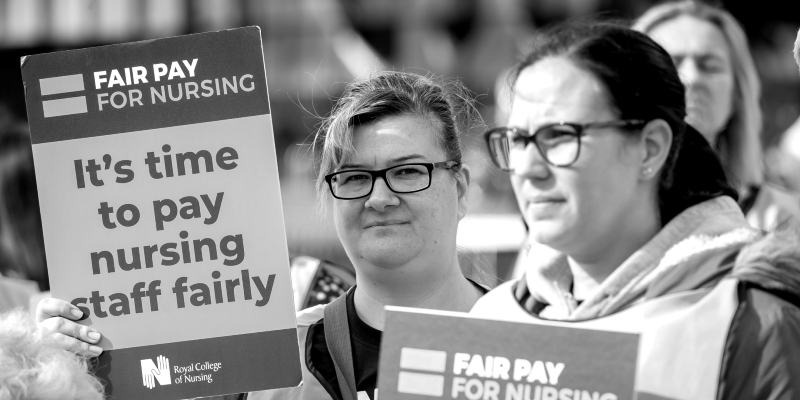 RCN members working for NHS employers in England will strike at half the locations where the legal mandate for strike action was secured earlier this month. The number of employers affected will increase in January unless formal negotiations with the UK government are held. There will be strike action throughout Northern Ireland and at all but one NHS employer in Wales.
The strikes will take place on Thursday 15 and Tuesday 20 December with the same employers affected on both days. See the full list of employers affected.
RCN General Secretary & Chief Executive Pat Cullen said: "Ministers have declined my offer of formal pay negotiations and instead chosen strike action. We've been left with no choice but to announce where our members will be going on strike in December.
"We're defending our profession and our patients. We've had enough of being taken for granted and being unable to provide the care patients deserve.
"Ministers still have the power and means to stop this by opening negotiations that address our serious concerns about patient safety and fair pay."
Members working at employers where strikes are planned will receive more information shortly, including exact locations of picket lines and details of how we'll stage safe and effective strikes that maintain life-preserving services.
If you're taking part in lawful strike action, you'll be entitled to claim back £50 for each day you strike, through our strike fund. A simple form to claim this will be launched in mid-December.
Until then, please visit our strike hub which will be updated regularly to include all the information you need to feel equipped and empowered to strike.
No matter if or how you voted in our strike ballot, as an RCN member you can withdraw your labour if there is strike action at your place of work.
If your employer is not involved in December's strikes, visit our strike hub to see how you can get involved in your community and online.
Remember, this is just phase one. The strikes in December could just be the beginning of a longer period of action if formal negotiations either don't happen, or don't result in a satisfactory outcome. It's important that you support colleagues taking action however you can.
Plans for strike action in Scotland have been paused after the Scottish government returned to the negotiating table to avert strikes. They made a new NHS pay offer last week, which eligible members in Scotland will now be consulted on. Find out more.
We're campaigning for a pay rise of 5% above RPI inflation to overcome real-terms pay cuts which have left experienced nurses 20% worse off since 2010. Only by paying nursing staff fairly will we recruit and retain people in our profession. In the last year, 25,000 people left the Nursing and Midwifery Council (NMC) register. Chronic staff shortages are affecting patient care.