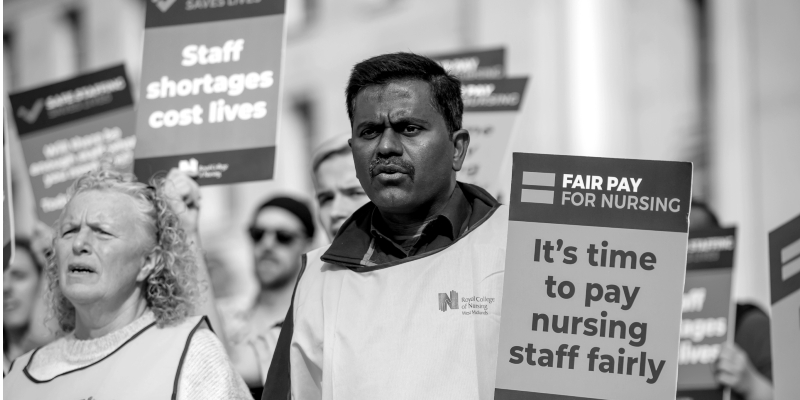 Our first phase of strike action will take place on Thursday 15 and Tuesday 20 December after the UK government turned down our offer of formal, detailed negotiations as an alternative to strikes.

The strikes will happen in England, Northern Ireland and Wales with a list of employers where strike action will take place announced next week.

Strike action will happen in phases, meaning more strike dates could be announced after initial action in December, if governments fail to enter into formal negotiations. They have the power and means to stop strikes at any point but have chosen to go down this route.

Not all members at employers where there is a mandate to strike will be called to strike on these first two dates. Phase one could be just the beginning of a longer period of strike action.

The announcement of strike dates follows the result of our recent ballot in which members at the majority of NHS employers across the UK voted to strike.

The dispute is over pay, but also patient safety. Staffing levels are so low that patient care is being compromised. Only by paying nursing staff fairly will we recruit and retain people in our profession.

So far, our meetings with the UK government have seen ministers sidestep the serious issues of NHS pay and patient safety. Meanwhile, plans for strike action in Scotland have been paused after the Scottish government decided to return to the negotiating table to avert strikes.

There is no functioning government in Northern Ireland. Welsh ministers have not yet agreed to meet, despite our requests.

RCN General Secretary & Chief Executive Pat Cullen said: "Ministers have had more than two weeks since we confirmed that our members felt such injustice that they would strike for the first time.

"My offer of formal negotiations was declined and instead ministers have chosen strike action. They have the power and the means to stop this by opening serious talks that address our dispute.

"Nursing staff have had enough of being taken for granted, enough of low pay and unsafe staffing levels, enough of not being able to give our patients the care they deserve."

Members working at employers where strikes are planned will receive more information shortly, alongside details of how we'll stage safe and effective strikes that maintain life-preserving services.

If you're taking part in lawful strike action, you'll be entitled to claim back £50 for each day you strike, through our strike fund. A simple form to claim this will be launched in mid-December.

Until then, please visit our strike hub which will be updated regularly to include all the information you need to feel equipped and empowered to strike. Here you'll also find links to print-at-home posters, twibbons and avatars to show your support for our strikes. Visit the strike hub now.