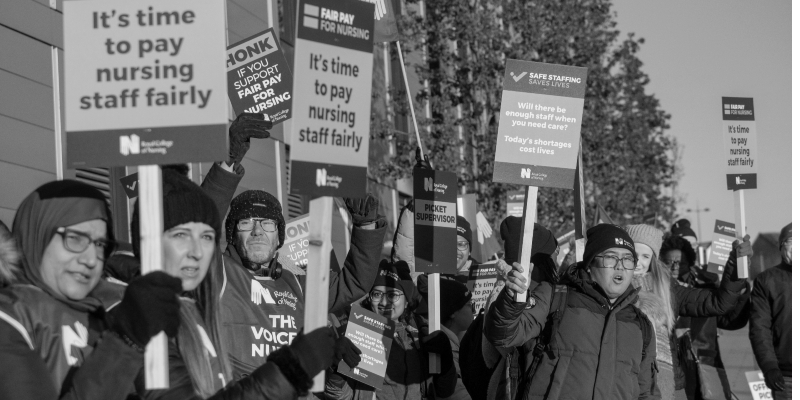 February will see NHS nursing staff go on strike in what will be our most widespread protest so far against unfair pay and unsafe staffing.
If progress isn't made by the end of January, members in England and Wales will go on strike on 6 and 7 February following the refusal of the UK and Welsh governments to seriously negotiate on the current year's NHS pay deal.
Last week the Welsh government met with unions to discuss NHS pay but failed to offer a substantiative and restorative pay award for 2022/23.
While we've had discussions with the UK government, they refuse to engage in the formal negotiations which would stop nursing strikes.
Our dispute is about NHS pay for this financial year and governments have so far wasted chances to avert strike action.
Our first strikes took place in England, Northern Ireland and Wales on 15 and 20 December, with more strikes in England happening this week on 18 and 19 January.
The nursing strikes now announced for February will be at the highest intensity in our history. They'll take place at 73 NHS trusts in England, compared to 44 in December and 55 in January. The strikes in Wales will take place at the same NHS employers as they did in December. See the full list of employers affected.
Decisions on further strike action in Northern Ireland will be taken in the coming weeks if there is no movement from the UK government to commence negotiations on pay. In Scotland, strike action remains paused while negotiations continue.
RCN General Secretary & Chief Executive Pat Cullen said: "It is with a heavy heart that nursing staff are striking this week and again in three weeks.
"We are doing this in a desperate bid to get ministers to rescue the NHS. The only credible solution is to address the tens of thousands of unfilled jobs – patient care is suffering like never before.
"My olive branch to governments – asking them to meet me halfway and begin negotiations – is still there. They should grab it."
We're committed to staging safe and effective strikes that maintain life-preserving services through derogations, which are exemptions of either individuals or whole services from taking part in strike action. Find out more.
If you're taking part in lawful strike action, you're entitled to claim back £50 for each day you strike, through our strike fund. A simple form to claim this is available on our strike hub, where you'll also find answers to frequently asked questions about strike action.