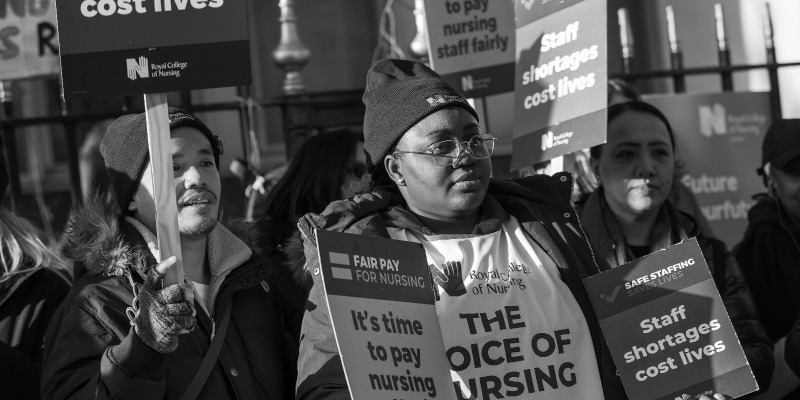 The results of the RCN's consultation on the revised NHS pay offer for nursing staff in England have been announced:
61% of eligible members voted
46% voted to accept the offer
54% voted to reject the offer
We've written to the Health Secretary to seek an urgent re-opening of pay talks with the UK government and are organising a 48-hour strike with no derogations (exemptions from strike action) from 8pm on 30 April to 8pm on 2 May. This is within our current mandate to strike, which covers the 2022-23 pay year only. A full list of employers where strike action is called can be found on our strike hub.

We'll also conduct an England-wide statutory ballot to extend the scope and duration of our current mandate for strike action.

In the letter to Steve Barclay, RCN General Secretary & Chief Executive Pat Cullen said: "What has been offered to date is simply not enough. The government needs to increase what has already been offered and we will be highly critical of any move to reduce it.

"Until there is a significantly improved offer, we are forced back to the picket line. Meetings alone are not sufficient to prevent strike action and I will require an improved offer as soon as possible. In February, you opened negotiations directly with me and I urge you to do the same now.

"After a historic vote to strike, our members expect a historic pay award."

Addressing members directly, Pat Cullen reflected on the campaign to date and urged for mass participation among those members who are being called to strike in May, in our biggest and most intensive action yet: "I want to congratulate you on your resolve throughout this consultation. The level of participation in this ballot is record-breaking – this is exactly how we'll continue to shape this profession for the better and make the voice of nursing impossible to ignore.

"I have heard you and I'm prouder than ever to be led by you in the campaign for fair pay.

"I now urge every member employed where strike action has been called, to prepare to strike from 8pm on 30 April to 8pm on 2 May 2023."

To hear more from Pat about the consultation results and subsequent actions, join her for an online event tonight (14 April) from 6pm.

The RCN's consultation on the NHS pay offer for staff on Agenda for Change contracts in England opened on 28 March and closed at 9am today (14 April). It followed six days of strike action in England and four weeks of intensive pay talks with the UK government.

Other health trade unions have also been consulting their members on the offer. We're awaiting clarity from the UK government on what they'll do next, in light of our consultation outcome. We don't expect to find out until all unions have concluded their consultations but, in the meantime, we've been clear that we expect an improved and formal pay offer to postpone our strike.

Our upcoming statutory industrial action ballot must – by law – be carried out by post. Whether you're prepared to take strike action or not, it's essential that your postal address, job, workplace and all other details are up to date for you to have your say. Check now.

Find more information in our FAQs.