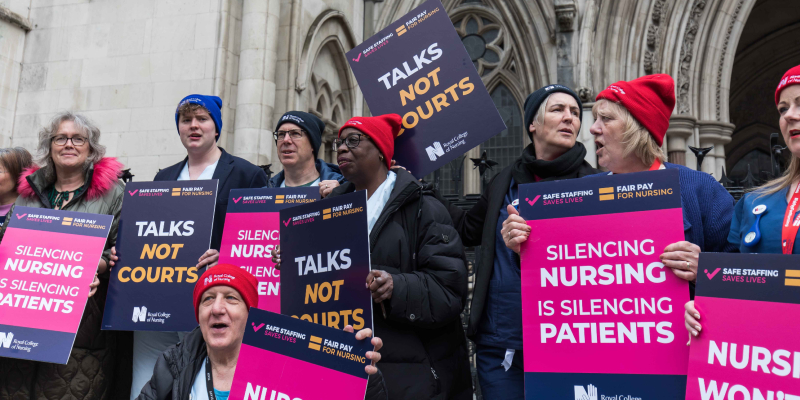 27 April
Nursing strike cut short after High Court decision
A judge has ruled that our planned strike action at NHS workplaces across England must be cut short by a day. It will now end 11.59pm on 1 May, as opposed to 8pm on Tuesday 2 May.
It's after the UK government asked the High Court to assess whether the last day of our planned action – starting this Sunday evening (30 April) – fell outside our six-month mandate for strikes. Today, a judge ruled in the government's favour.
RCN General Secretary & Chief Executive Pat Cullen said: "The full weight of government gave ministers this victory over nursing staff. It is the darkest day of this dispute so far - the government taking its own nurses through the courts in bitterness at their simple expectation of a better pay deal.
"Nursing staff will be angered but not crushed by today's interim order. It may even make them more determined to vote in next month's reballot for a further six months of strike action. Nobody wants strikes until Christmas - we should be in the negotiating room, not the courtroom today.
"The government has won this legal battle. But they have lost the support of nursing staff and the public. The most trusted profession has been taken through the courts, by the least trusted people."
Speaking outside the court, Pat shared her dismay at Steve Barclay's decision to pursue legal action.
The ruling today does not relate to our strike action on 30 April and 1 May. This will still go ahead, starting at 8pm (or the start of the night shift) on Sunday 30 April and finishing at 11.59pm on 1 May.
We're encouraging all members working at an NHS employer where we have a mandate to strike, to take strike action and to tell their employer they will be striking. The RCN continues to work with employers to ensure a robust escalation process is in place that will grant safety critical mitigations throughout the strike, should they be needed.
Please visit our strike hub to find out which NHS workplaces will be affected by strike action, where picket lines will be and how to claim strike benefit. Strike benefit has been increased to £80 per day of action from 30 April, increasing to £120 from the fourth day of action taken by any RCN member.
26 April
Pat Cullen releases witness statement ahead of High Court hearing
RCN General Secretary & Chief Executive Pat Cullen has emailed members working for the NHS in England to share her witness statement for the court case about our 2 May strike action, being heard at the High Court tomorrow (27 April). Judges there will decide whether to issue an injunction to stop the action, as requested by the UK government, in lieu of a full hearing taking place.
Nursing staff will join Pat outside the Royal Courts of Justice in London in the morning to show the government that we're standing up to its attempts to cut short our lawful strike.
In the email, Pat said: "We expect that ministers could be successful in putting their full weight on the court and, if they win, we'll be letting members know that the strike will end at 11.59pm on Monday 1 May and not the following evening."
The strike begins at 8pm or the start of the night shift on Sunday 30 April.
Pat continued: "As a valued member, I wanted you to hear directly from me about my message for the court tomorrow. I'm there to represent you, our profession and this College. I've written a thorough witness statement that sets out our legal and political arguments on why the strike must go ahead." You can read it here.
In summary, it states the RCN's position that:
we already have an overwhelming democratic mandate from members to call strike action. This is not a stale dispute, but an ongoing one
the public support for nurses is consistently strong – around two thirds support nurses taking industrial action
the action called to take place on 2 May 2023 falls within the timescales set out in the Explanatory Notes to the Trade Union Act 2016
not one employer has intimated an intention to challenge the lawfulness of the action
it seems premature to grant an interim declaration at this stage even before the RCN has filed a defence to the claim.
Pat stressed: "If you're taking part in the strike, please tell your employer so they can plan safely. There are no derogations but I assure you we have clear escalation plans with the NHS for major incidents and other cases where we will fulfil our obligation to protect 'life and limb' care."
25 April
Court proceedings confirmed for Thursday 27 April
The RCN has been notified this morning (25 April) that court proceedings related to our strike action on 2 May will take place at the High Court, Royal Courts of Justice, in London at 10.30am on Thursday 27 April. Members will be notified of the outcome as soon as possible after the ruling.
24 April
RCN challenges legal action over England nursing strike
Tonight (24 April), the UK government has confirmed it will take the RCN to court over planned strike action next week.
Over the weekend, RCN General Secretary & Chief Executive Pat Cullen described the situation as "nakedly political" and "frightening for democracy".
Earlier today, the government backed down from challenging the whole 48 hours of strike action but they're still asking the court to stop any strike action on Tuesday 2 May.
On Friday (21 April), Health Secretary Steve Barclay threatened to ask the courts to declare the whole strike action unlawful following contact from NHS Employers.
Later this week, the court will decide whether to support the government's case and whether our timetable of strike action will change. Members at employers due to take strike action will be informed as early as possible.
In the meantime, we're preparing for our spring strike action as planned and getting ready to ballot members for a further six months of strikes.
In an email to RCN members working for the NHS in England, Pat said: "Tonight, the threat sadly became a reality. We told the government that this is wrong and indefensible. The only way to deal with bullies is to stand up to them – including in court.

"Before the end of the week, the court will decide whether to support this government's use of draconian anti-trade union legislation.

"If the government succeeds in silencing members like you and convinces the court to stop part of our strike, then we'll have no choice but to cut it short. Our strike action has always been safe and legal. We would never ask our members to do anything unsafe or against your professional code.

"It's so wrong for the government to use taxpayers' money to drag our profession through the courts. We're determined to show that the nursing profession is strong and determined, and defend our members' right to strike."
21 April
'Nurses will not be gagged' insists RCN over threat of court action to stop upcoming strike
Following a threat of legal action to our upcoming strike action earlier this week, NHS Employers has referred its concerns to the UK government.
In response, the government has written a "letter before action" and threatened an interim court order to stop our entire 48-hour nursing strike from 8pm on 30 April.
RCN General Secretary & Chief Executive Pat Cullen said: "This move is nakedly political. Nurses will not be gagged in this way by a bullying government."
The dispute relates to our strike action on 2 May, which NHS Employers claims is outside our mandate for strike action, which lasts for six months from the point a statutory industrial action ballot closes. Our ballot closed at midday on 2 November, and we argue legal precedent indicates our mandate lasts to midnight on 2 May. NHS Employers argues it only lasts until midnight on 1 May.
Today (21 April), NHS Employers sent a letter to the UK government to ask for intervention on this matter, and to seek the view of the courts as to whether our entire strike action from 30 April to 2 May is lawful.
Members are asked to be assured that the RCN would never ask them to take strike action that was unlawful and that our upcoming industrial action plans remain in place. You have our full backing and should anything change, you'll be the first to know.
"We're clear that court arguments should only relate to 2 May and not the 30 April and 1 May," insisted Pat.
"The government is now desperate to silence nurses rather than address this properly. We want to be in the negotiating room, not the courtroom."
RCN members working in the NHS in England at workplaces with a strike mandate are preparing to take strike action from 8pm or the start of the night shift on 30 April to 8pm or the start of the night shift on 2 May. This 48 hours of round-the-clock strike action is a significant and appropriate escalation in our fight for fair pay for nursing, which follows a vote to reject the latest pay offer from the UK government.

We will be balloting our members again on strike action in the coming weeks, for a new strike mandate that covers both the 2022-23 and 2023-24 pay years. It's essential that your postal address, job, workplace and all other details are up to date for you to have your say. Check now.

Find more information in our FAQs.