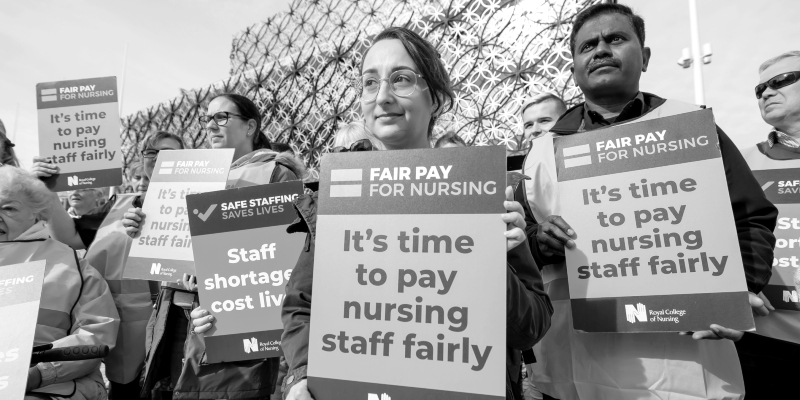 The RCN will continue to put pressure on the UK government to deliver fair pay for nursing in England but turnout in our statutory strike ballot didn't surpass the 50% legal threshold required to take action.
In the ballot, more than 100,000 members voted in favour of strike action – around 84% of the total number of people who voted.
To clear the turnout threshold, approximately 140,000 ballot papers needed to be returned in the post and only 122,000 were received by the closing date of Friday 23 June.
With an overall turnout of 43%, the ballot didn't reach the required threshold dictated by the 2016 Trade Union Act for a strike mandate to be achieved.
RCN General Secretary & Chief Executive Pat Cullen said: "To every one of you who took part, whether by voting or encouraging others to, thank you. We have so much to be proud of.
"While the vast majority of members who returned their ballot papers voted in favour of strike action, we didn't meet the 50% turnout threshold necessary for us to be able to take further strike action.
"While this will be disappointing for many of you, the fight for the fair pay and safe staffing our profession, our patients, and our NHS deserve is far from over.
"This week, the government will say it has a plan for the NHS workforce. I am seeing the Prime Minister this afternoon to hear him out and to ask him the questions you wanted answering on his commitment to nurses and support workers.
"I know staff morale is low and the staffing crisis is set to worsen without immediate action. I will be telling him this today.
"We have started something special - the voice of nursing has never been stronger and we're going to keep using it."
To hear more from Pat, join her for a member event at 6.30pm tonight (27 June).
The ballot was conducted by post, as required by law, between 23 May and 23 June. It asked eligible members working for the NHS in England whether they were prepared to take strike action – fully withdrawing their labour – in response to the NHS pay award for 2022/23 and 2023/24. It came after members rejected the award in April following six days of historic strike action.
Unlike the strike ballot we ran last year, the ballot was "aggregated" meaning the legal threshold that must be met to stage strike action applied just once to the entire voting membership as opposed to per NHS employer. We did this to get the government back to negotiations. If we'd achieved the mandate, it would have allowed for an even larger strike than RCN members have staged until now.
Find out more about the ballot outcome and next steps in our FAQs.