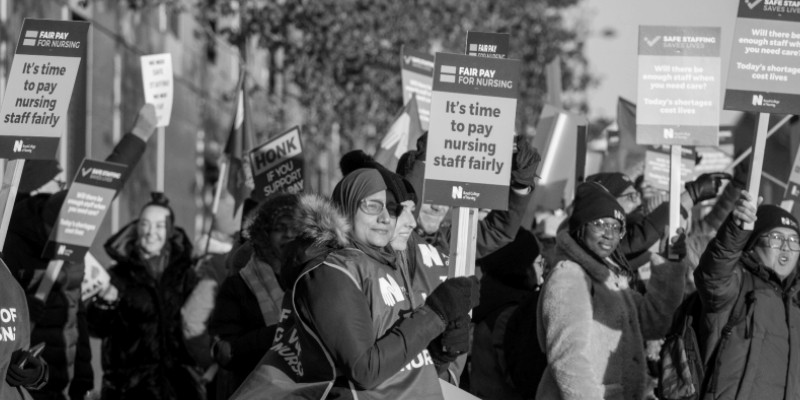 RCN strikes will take place at 128 NHS employers in England next month, as the Prime Minister continues to ignore calls for talks on pay, leaving nursing staff in England behind.
The next strikes will run without pause for 48 hours from the morning of Wednesday 1 March to the morning of Friday 3 March with every single member in England, where there is a mandate to strike, being called to withdraw their labour. For 24-hour services, strike action will commence at the beginning of the local day shift and continue until the same time on 3 March. For services that are not 24-hour services, strike action will start at 6am on 1 March and end at the same time on 3 March.
To support members to take part in our biggest strike yet, we're increasing the strike benefit payments that members can claim. Members will now be able to claim £80 a day for strike action taken from March. This will rise to £120 a day for members who have taken strike action for four or more days. Find out more about the strike benefit.
During previous phases of industrial action, we agreed about 5,000 exemptions at a local level with NHS hospitals, and several national derogations. However, this time there will be no wide-ranging derogations in place. Services previously 'derogated' will not be to the same extent. We are working directly to ensure that these services are reduced to an absolute minimum. It is always the employer's responsibility to ensure life-preserving services, so we expect life-preserving care to be provided by members of the wider workforce and other clinical professions.
RCN members are invited to a meeting with RCN General Secretary & Chief Executive Pat Cullen at 6.30pm on Tuesday 21 February to hear more about this next step. Find out more.
Pat stressed that the Prime Minister owes members urgent action.
She said: "It is with a heavy heart that I have today asked even more nursing staff to join this dispute.
"These strikes will not just run for longer and involve more people but will leave no area of the NHS unaffected. Patients and nurses alike did not want this to happen.
"By refusing to negotiate with nurses, the Prime Minister is pushing even more people into the strike. He must listen to NHS leaders and not let this go ahead.
"I will do whatever I can to ensure patient safety is protected. At first, we asked thousands to keep working during the strikes but it's clear that is only prolonging the dispute. This action must not be in vain – the Prime Minister owes them an answer."
Picket lines will be arranged across the UK and members will be updated about picket locations soon.
Progress has been seen in Scotland and Wales and as a result, strike action is paused here. In Northern Ireland, we have no further strike dates agreed yet. We remain in dispute here and further strikes cannot be ruled out.