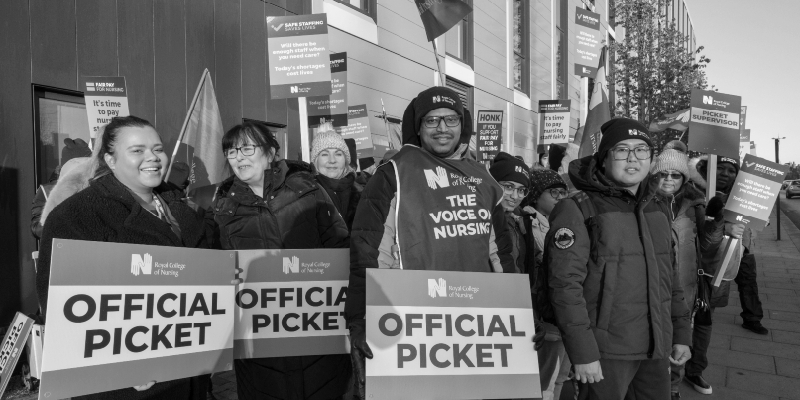 Nursing staff at 55 NHS trusts across England are going on strike today and tomorrow (18 and 19 January), as part of our ongoing dispute over nursing pay and patient safety.

The trusts affected are different from those in our December strikes, which saw nursing staff at 44 NHS trusts in England take action, alongside members on strike in Northern Ireland and Wales.

We hoped these strikes would force the UK government to open formal negotiations on the below-inflation NHS pay award for this financial year, which our dispute is about. But ministers have so far refused to take part in serious talks, choosing strikes instead.

If progress isn't made by the end of January, we've said our strike action will be escalated on 6 and 7 February to include members at 73 NHS trusts in England and all but one NHS employer in Wales.

RCN General Secretary & Chief Executive Pat Cullen said: "Today's strike action by nursing staff is a modest escalation before a sharp increase in under three weeks from now. If a week is a long time for Rishi Sunak, three weeks is the time he needs to get this resolved.

"People aren't dying because nurses are striking. Nurses are striking because people are dying. That is how severe things are in the NHS and it is time the Prime Minister led a fight for its future.

"Today's record number of unfilled nurse jobs cannot be left to get worse. Pay nursing staff fairly to turn this around and give the public the care they deserve."
We're campaigning for a pay rise to help tackle chronic staff shortages by enabling the NHS to recruit and retain the nursing staff it desperately needs.
Our dispute extends to Northern Ireland, where decisions on further strike action will be taken in the coming weeks if there is no movement from the UK government. In Scotland, strike action remains paused while negotiations continue.

Visit our Strike Hub to find out where your nearest picket line is, or if you can't make it to a picket line, show your support for our strikes on social media using the hashtag #RCNStrike.