Jessica Davidson RN, RNMH, NMP, DipHE, BN, PGCert ASET, PG Dip, QN, FRCN
Forum Chair
Clinical Lead Nurse for Justice, MAT Standards Implementation Support Team, (MIST) Scottish Government

Programme Lead and Lecturer, Advanced Forensic Practice MSc, Queen Margaret University, Edinburgh
Past roles
Includes Senior Clinical Forensic Charge Nurse, Gender Based Violence Specialist Service, National Co-ordinator MAT standards, Police Custody, Police Care Network.
Highlight of your career or recognition
I have been fortunate with recognition, but the stand out for me was being awarded FRCN and QN in the same year. This has significantly assisted me to influence and broker change.
Why did you join the Forum committee?
Curiosity to know the machinery of the professional side of the RCN. This has grown into an active commitment to further the equity of nursing professionally, politically, and publicly. My focus is to shine light on realistic practice, evidence, intelligence and fairness, particularly for marginalised, disenfranchised groups and systems.
Contact
Professional Lead for Justice and Forensic Nursing: Dr Liz Walsh
Tel: 0207 647 3458
Email: liz.walsh@rcn.org.uk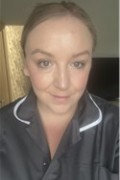 Emma Firth
Primary Care Clinical Lead, HMP/YOI New Hall and Askham Grange
Past roles
Prior to working in a prison environment Emma worked in acute surgery and gynaecology. Following this I worked at HMP Wakefield as a cardiac rehabilitation nurse and then senior nurse within the primary care team.
Highlight of your career or recognition
A highlight for Emma was having an article published in Nursing Standard magazine discussing learning opportunities for student nurses in prison environments. She was a newly qualified nurse working with a colleague who was published and was so inspired and in awe of this, never imagined that it could be her. Holding a copy of the magazine and see her article made her particularly proud of the work she is aiming to achieve.
Why did you join the Forum committee?
From starting in a prison it was early on she realised the potential of prison nursing and how to the wider nursing community it is often an unknown and untapped area of nursing. She is passionate about developing students and felt the two come together well. Working amongst the committee will allow her to help promote the phenomenal work that is taking place in prisons whilst aiming to showcase the roles and opportunities to qualified nurses and students alike.
Ruth Kavanagh RN (MH), MSc, PGCert (Dec 2021)
Clinical Quality and Patient Safety Lead, Health and Justice Commissioning, NHS England and NHS Improvement (London Region)
I have oversight of services including health care in prisons, liaison and diversion, health care services for children/young people in the justice system, health care in immigration services and some services within sexual assault pathways. I am also a CQC Specialist Advisor.
Past roles
My previous roles include Clinical Nurse Manager (Services for men with mental illness) and Clinical Nurse Manager (National High Secure Learning Disabilities Directorate), as well as Clinical Quality Manager for Health and Justice Commissioning, NHS England and Improvement (East and West Midlands).
Highlight of your career or recognition
I have led teams within specialist high secure services to achieve improved quality of services and outcomes for patients. More recently, I have had the privilege of collaborating with the Health and Justice commissioners and providers across London, achieving readiness to commence the COVID-19 vaccination programme for detained patients in the capital.
Why did you join the Forum committee?
I am an advocate for promoting nursing in justice pathways as a career of choice, given the range of specialities and opportunities that these services can offer the workforce. Excellent services cannot however be delivered without a resilient, skilled and well supported health care workforce. My motivation to join the Forum steering committee comes from a desire to highlight the challenge of working in these services, and to progress support systems and recognition for these roles and teams.
Paul McAleer
Lecturer in Education in the School of Nursing and Midwifery at Queen's University, Belfast
RCN NI Board Member, ESC-Belfast Board Member, Southill Outreach (Limerick) Board Member
Past roles
My previous experience includes community, inpatient forensic and criminal justice services, holding a range of specialist practitioner roles such as forensic practitioner, personality disorder practitioner, and health facilitator for people with learning disabilities. My clinical experience has been focused on supporting the biopsychosocial needs of offenders with learning disabilities and mental health disorders, through specialist risk assessment and management systems, forensic psychotherapy, delivery of structured psychotherapeutic/psychoeducational groups and staff training.
Highlight of your career or recognition
Winning the 'inspiring excellence in mental health and learning disability' category at RCN NI's nurse of the year awards...and joining the Nursing in Justice and Forensic Health Care Forum.;
Why did you join the Forum committee?
I wanted to pay it forward. When working in the prison environment, the forum helped me to connect with and learn from members in other custody settings. These connections were invaluable in helping to set up and deliver a screening programme for people with learning disabilities on committal to prison. The forum helped me to understand that we are not alone...we're 'standing on the shoulders of giants'.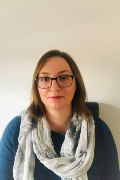 Helen McNally RMN, PGDip, BSc Hons Specialist Nursing practice - Forensic Health Care
Clinical Service Manager, Community Forensic Mental Health Team (Northern Health and Social Care Trust).

Past roles
Previous roles include Lecturer in Nursing (Mental Health), Mental Health and Addiction Lead Nurse (Healthcare in Prison -Northern Ireland), Towards Zero Suicide Service Improvement Manager in prison, Community Mental Health Team Leader, Senior Nurse Mental Health in Prison, and Discharge Liaison Coordinator for Healthcare in Prison.
Highlight of your career or recognition
Having a successful nursing career. Being accepted onto the Forum Committee.
Why did you join the Forum committee?
Following on from the RCN industrial action in Northern Ireland (2019/2020), I became more interested in the RCN. When looking at how I could contribute, I came across the forums. Having spent most of my nursing career within a prison setting, I am aware of the pressures faced by nurses in justice but also for the patients who find themselves living in prison. I hope to be able to shape the future of these services, share knowledge and learn from others.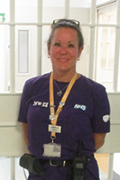 Deanna Mezen BSc Hons (RNA), Msc, NMP
Advanced clinical nurse practitioner, Complex Care Coordinator, Palliative Care Lead, Veterans in Custody Lead and Transgender Lead, Practice Plus Group. HMP Oakwood, Wolverhampton.
Past roles
Respiratory unit, Medical assessment unit, Rapid assessment clinic for urgent medicine.
Highlight of your career or recognition
Embedding the dying well in custody charter leading to me being awarded our company's nurse of the year 2020 and a Butler trust award 2020-2021.
Why did you join the Forum committee?
The role was explained during a clinical forum and I felt that I would be able to help highlight the differing roles of a Health in Justice nurse to promote to others our specialist roles, but also to ensure that Health in Justice have the same access to information.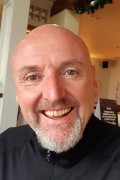 Simon Newman RN, Dip PNS, Cert HP
Head of Healthcare, HMP Berwyn, North Wales. Betsi Cadwaladr University Health Board
Past roles
I have worked across a number of criminal justice settings in a variety of roles since 1994. I have worked in secure children's homes, the young people's estate, the women's estate and a number of male prisons. I am currently Head of Healthcare at Berwyn, Betsi Cadwaladr University Health Board leading multifunctional health and wellbeing services at UK's newest and largest prison.
Highlight of your career or recognition
Being given the opportunity to establish trail blazing, equitable healthcare delivered by a multidisciplinary team in a fully integrated health and wellbeing service within HMP Berwyn. Having had the opportunity to co-design and role model services based on a strong rehabilitative focus, has helped provide a recovery roadmap for the men in our care which I hope informs prison healthcare improvement.
Why did you join the Forum committee?
I have been active within the RCN since early 2000s. I have been an RCN steward, Health and Safety steward and Agenda for Change lead. I have held treasurer and chair roles in my local branch. I wanted to join the committee to share my experience of the criminal justice sector, promote our work, increase Forum membership and recruit new nurses to the sector.
Page last updated - 31/01/2022