Introduction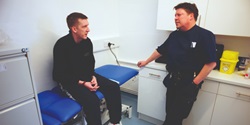 People in prison come from the community and, in almost all cases, return to the community, so a period of imprisonment may be a suitable moment to address health inequalities and make effective and valuable health interventions. For some people, prison can be the first time they can address their health inequalities and needs through access to effective health and social care.

They can experience a range of health inequalities and can experience a higher burden of illness, less access to treatment, screening and prevention services and are more likely to have substance use problems, experience homelessness, and have poor levels of education and unemployment. The older prisoner population is growing with increasing health and social care issues.

All roles with within prison healthcare provide the opportunity to make a difference for those people that can be some of the most vulnerable and disadvantaged in society. Staff in prison work to reduce those inequalities and significantly improve the outcomes for people, making real changes to people's lives for the better. Healthcare in prison therefore plays a vital role in reducing inequalities and changing lives.

NHS England has written a blog on health inequalities within the criminal justice system where you can find out more about how these inequalities are being addressed.