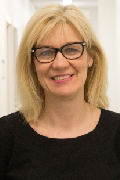 Penelope Stanford 
RCN Ophthalmic Forum Chair
Dr Penelope Stanford is Chair of the Royal College of Nursing (RCN) Ophthalmic forum and is employed as Senior Lecturer in adult nursing at the University of Manchester.
Penelope has been an ophthalmic nurse for many years having gained the Ophthalmic Nursing Diploma at the Manchester Royal Eye Hospital. She has pursued further academic study in ophthalmic nursing, her PhD for example explored postoperative pain following ophthalmic surgery.
She is the Unit Lead for the Undergraduate and Master's level ophthalmic courses at the University of Manchester and a Senior Fellow of the Higher Education Academy. Penelope is also a board member of the UK Ophthalmic Alliance (UKOA) and has also contributed to several ophthalmic national initiatives on behalf of the RCN.
Penelope is passionate about ophthalmic education, ophthalmic nursing and supporting the ophthalmic patient experience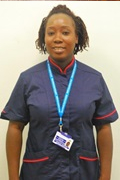 Nicola Dunlop
Oculoplastic Nurse Consultant
Nicola commenced her ophthalmic nursing studies at Moorfields Eye Hospital in 1998. Following this, she worked in the operating theatre, successfully completing the ophthalmic theatre course, as well as the mentorship and counselling courses. She consolidated her academic achievements by obtaining a non-medical prescribing, post graduate diploma in health management, as well as a masters in health management. In 2013, Nicola was awarded the British Thyroid Foundation: Evenly Ashley Award.
Nicola pioneered the first nurse-led services at Moorfields in botox, minor surgery, post-operative clinic and virtual histology reporting. She runs a bi-yearly botox study day for ophthalmic and neurology nurses and doctors, and developed the patient pathway currently in use in the oculo-plastic/adnexal service.
Recently she created the first comprehensive dvd on caring for patients with loss of an eye, which led to her starting work on a second dvd on thyroid eye disease and its management and audit. A third dvd on the management of watering of the eye is currently in development.
Nicola was recently promoted to nurse consultant and is currently undertaking a doctorate in nursing. She is driven by a desire to educate nurses and improve the quality of compassionate patient care in its many facets. Nicola joined the forum in 2015 so that she could work with other members to influence ophthalmic changes that will benefit both patients and nurses.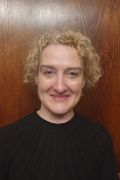 Yvette Revell-Smith
Senior Lecturer, University of Portsmouth
Yvette is a RGN with 23 years of experience as an ophthalmic nurse. During this time she has worked at the University of Leicester NHS Trust as well as on the Isle of Wight. She has a specific interest in corneal and retinal disease. Until recently she worked as an ANP and non-medical prescriber, where her main duties included working as an autonomous practitioner, leading in practice development, instigating evidence based practice changes and strategically planning for the efficient and prudent running of the hospital's eye services.
Yvette is passionate about promoting core ophthalmic nursing values to equip the future workforce. She believes firmly in a patient-centred approach linking new research and empirical evidence to inform practice. She has extensive experience in ophthalmic practice and hopes to develop and enhance post registration ophthalmic education within the South region.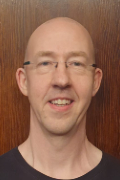 Mark Davies
Senior Lecturer in Advanced Practice – University of South Wales
Mark has worked as an RN in the field of ophthalmic nursing for the past 18 years. He began in ophthalmic theatre, moving more fully into the specialty following a secondment at Bristol Eye Hospital where he completed the ENB 346 (Ophthalmic Nursing).
Mark was instrumental in developing a number of nurse-led services whilst in practice e.g. cataract pre-operative assessment/post-operative review, minor & intermediate oculoplastic clinic and surgical intervention, and YAG laser capsulotomy. In 2009, Mark made the transition into Higher Education, teaching primarily on the university's MSc Advanced Practice pathways.
Delivering Ophthalmic workshops and CPD sessions, he is also involved in a number of research projects focusing upon neovascular AMD. Mark has a parallel interest in professional education, and his PhD research focused upon the knowledge construction process within advanced practitioners.
He is a Senior Fellow of the Higher Education Academy, a Fellow of the Staff and Educational Development Association and a committee member of the RCN Ophthalmic Forum.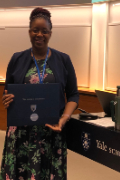 Roxanne Crosby-Nwaobi
Postdoctoral Ophthalmic Nurse Researcher & Head of Research Nursing at the NIHR Clinical Research Facility, Moorfields Eye Hospital.
Roxanne is passionate about improving ophthalmic patient related outcomes through the modelling of real-world clinical data to deliver personalised medicine.
She sits on the board of the Royal College of Nursing Ophthalmic Nursing Forum and is a Trustee of the International Glaucoma Association.
She is also a Florence Nightingale scholar, a NIHR 70@70 senior research leader, a Topol/Health Education England Digital Health Fellow and was recently awarded a NIHR/HEE Clinical Lectureship.
Roxanne has several peer-reviewed publications and oral/poster presentations at national and international conferences.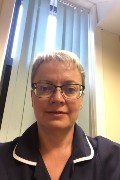 Carmen Clark
Carmen has been working in ophthalmology for over 25 years, initially ward based. As the focus of ophthalmic care has changed over the years, my main experience has been in the outpatient setting. Since 1998 she has worked in various nurse practitioner roles, at times branching out into department management, but always falling back into more patient focussed roles. Carmen has worked in large teaching hospitals, and smaller district general hospitals, as well as a time working for a Primary Care Trust developing community glaucoma services. Her areas of practice have included glaucoma, medical ophthalmology and oculoplastic.
Carmen's current role is focussed on emergency and primary eye care and has recently completed her MSc in Advanced Clinical Practice, having undertaken her non-medical prescribing qualification several years ago. This has enabled her to understand the links between community care provision and how this can impact accessibility into secondary care.
Carmen hopes that during her time on the committee, her knowledge, experience and enthusiasm will assist in developing ophthalmic nursing skills and education in the future.
Page last updated - 21/06/2022