Fair Pay for Nursing
Find out more about the Fair Pay for Nursing campaign and how you can get involved
The campaign
Nursing is the largest safety-critical profession in health care, playing a vital role in patient care.
Despite this, nursing remains understaffed and undervalued. After years of underinvestment, the government must act urgently to protect patient care by protecting the profession.
You can make a difference
When politicians neglect nursing, they neglect patients. We need members and supporters to come together to achieve a safely staffed workforce. You can demand change today.
More than 100,000 members voted for further strikes across England, but oppressive laws mean this isn't enough for nursing staff to take more industrial action in their fight for fair pay.
The fight for fair pay
The Fair Pay for Nursing campaign is about:
recognising that salaries of nursing professionals has consistently fallen below inflation – a fact which is being exacerbated by the cost of living crisis - and must now rise significantly to reflect that.
valuing the training, qualifications, skills, responsibilities and experience demonstrated every day by nursing staff.
ensuring that nursing is seen as an attractive, rewarding profession to tackle the tens of thousands of unfilled nursing posts.
the campaign aims to secure a pay increase that is 5% above inflation (measured by RPI).
Governments' response to this demand will indicate what they believe nursing staff who work outside of the NHS deserve too. We are clear that nursing staff deserve the same and fair pay no matter the setting or sector.
You can learn more about the history of the campaign and key milestones in our campaign timeline.
Funding our health and care system is a political choice. The government should make the right choice now.
Order and download
workplace materials
to help spread the word about the Fair Pay for Nursing campaign and patient safety.
8 Nov 2023

The Isle of Man's largest nursing trade union is to survey its members once again over a revised pay offer from employer Manx Care.

10 Oct 2023

Strike action on the Isle of Man has been postponed while members are surveyed over a new revised offer from employer Manx Care.

26 Sep 2023

Backdated payment is expected in October, but RCN will now explore CQC's wider commitments.
Visit our Strike Hub
Stay up to date with new details about strike action, learn about strike benefit, donate to our strike fund and more.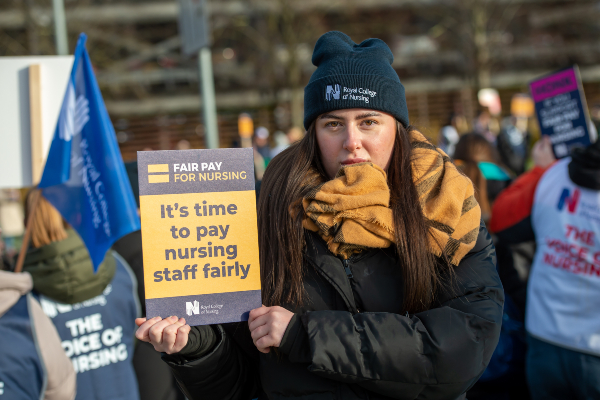 Your strength is in your numbers
Our fight for fair pay in independent health and social care
We campaign for all our members to receive fair pay, no matter what setting or sector you're employed in.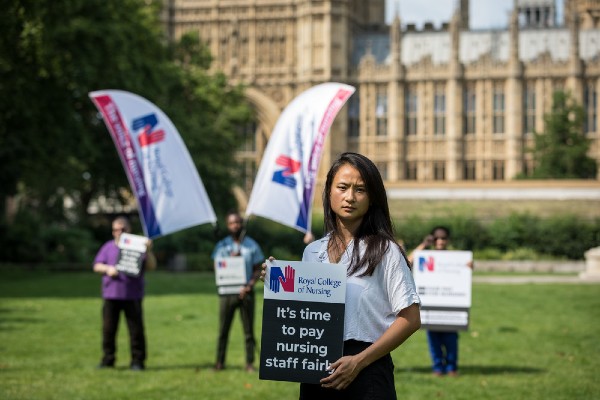 Page last updated - 08/11/2023