Alison Wileman - Forum Chair
Project Nurse, Southern Health Continence Service
Alison qualified in adult nursing over twenty years ago. She first worked in a urology department where she worked on the ward and in the cystocopy clinic, before moving into the community where she was given the opportunity to take the role of continence nurse. In 2013, her role developed into that of a project manager, helping to set up the Southern Health Continence Service.
Alison is in her second term of office on the forum and is enthusiastic about supporting change by raising the awareness and profile of continence issues so that they can be managed more equitably. She is keen to raise the profile of and encourage people to promote continence, rather than just supply pads. Alison has a particular interest in bowel care, which is a part of continence management that can sometimes be forgotten.
She worked on finalising the RCN catheter care and the management of lower bowel dysfunction guidelines.She has been involved in the organisation of several forum conferences, which involved developing the programme, speakers and topics. She enjoys being a part of the continence forum, networking with colleagues, and developing projects.
Fiona Le Ber
Clinical Nurse Specialist Community Continence and Stoma care. Queens Nurse. Jersey
Qualified as a RGN in 1992 after training in Southampton and Jersey schools of nursin, Fiona first worked on a busy medical/ medical assessment unit before moving to the endoscopy unit. After 17 years of hospital nursing she moved to the community to work as a community staff nurse for a local charity, where she managed a caseload of patients including care in 5 residential homes. Fiona has been the Community Continence and Stoma Care CNS for 6 years. The role has developed at an amazing rate:
Fiona, divides her time between patient visits, teaching Community Nurses and Carers, developing guidelines and working with commissioners to provide a sustainable service. Fiona also works closely with the hospital CNS's in Urology, Stoma Care and Enteral feeding. She became a Queen's Nurse in 2012 and then went on to be project lead for a Queen's Nursing Institute and Burdett Trust for Nursing Fund for Innovation and Leadership funded project on lower limb lymphoedema.
Fiona organised a successful "a Fresh Approach to Continence" Conference in 2019 which was attended by 90 delegates and aimed to enable Health Care Professionals to identify continence issues and support them to perform early patient centered and cost effective continence care.
Fiona, is in her first term of office on the forum and is keen to get started with continence related projects/ awareness. She is amazed at the level of experience and expertise of the forum members and is looking forward to learning from her peers.
Email Fiona
Jane Fenton
Teaching Fellow in Bowel & Bladder Nursing, School of Nursing and Midwifery, Keele University
Jane has worked in community continence services since 1995 as a continence advisor, specialist practitioner, clinical lead and service manager.
Jane has a special interest in bowel dysfunction and was instrumental in developing and delivering educational workshops at local regional and national levels on digital rectal examination [DRE], following the RCN publication on the role of the nurse in 1995.
Jane was then invited to contribute to the work led by June Rogers on DRE in children [RCN 2003] and the management of constipation in children [Norgine 2003] As clinical lead in North Staffordshire until 2014, she led a joint working group in the development and implementation of care pathways for bladder and bowel dysfunction in partnership with South Staffordshire and Shropshire Continence services.
Her partnership work with commissioners in North Staffordshire & Stoke on Trent led to the development of clinical care routes in collaboration with University Hospital North Staffs for urinary and faecal incontinence, and the implementation of direct referral to nurse led community continence clinics.
Throughout her career Jane has been involved in delivering sessions to learners within the school of nursing at Keele University – and after leaving the NHS secured part-time work as a teaching fellow in Bowel & Bladder dysfunction. She has led in the development and delivery of a post graduate module on bladder dysfunction and is currently working on the planning a bowel dysfunction module.
Jane also contributes to pre-registration and inter-professional programmes within Keele, and is passionate in ensuring that the needs of individuals with bladder and bowel care dysfunction are met where ever they present, with positive evidence based practice. She is looking forward to contributing to the work of the continence care forum from 2017.
Liz Howard-Thornton
BSc (Hons), R.G.N., R.M., Dip D.N.
Clinical Nurse Specialist Bladder & Bowel (Continence), North Lancashire.

Membership:
RCN Bladder and Bowel Forum Steering Committee Jan 2020
Association for Continence Advice (ACA) National Education Committee. Education Officer, North West Branch ACA.

NHS Service: NHS in England and Scotland: Worked in Nursing, Midwifery and District Nursing for a total of 39 years. For the last 24 years I have worked as a Clinical Nurse Specialist within services for bladder and bowel (continence) care.
Awards: 2011 Joint winner in Nursing Times Awards in two categories "Continence Promotion and Care" and also "Child, Adolescent, Maternity and Neonatal Services". For the development of the ACA Health Promotion leaflet entitled "Your Pelvic Floor".
2007 Joint Runner up in Nursing Times Award for "Team of the Year" for joint work with a cross sector team at an educational college in Lancaster, to develop a programme of continence care for young adults with complex physical and learning disabilities.
Co-author of ACA/RCN (2017) Guidance for the provision of containment products for adult incontinence: A Consensus Document.
Author /Joint copyright of the Continence Assessment Scoring Tool (CAST, 2003) A scoring system for the objective measurement of clinical need in continence care.

Liz believes in an integrated and multi-professional approach to bladder and bowel care, with the role of the nurse being at the heart of that care, as an advocate for the patient and campaigning for the implementation of national best practice in assessment and treatment. A vision laid down in such documents as NHS England (2018) Excellent in Continence Care. We need to strive for safe staffing levels, ongoing education for students and staff across all care settings, the preservation of current services and strive to enhance the development of bladder and bowel services for patients into the future.
Contact Liz.
Suzanne Ryder
Service Lead – South Manchester Bladder and Bowel Service
Professional Lead – Citywide Manchester Bladder and Bowel Services
Manchester University NHS Foundation Trust

Sue qualified in Manchester 30 years ago as a Registered General Nurse (1990) and worked for 8 years on gynaecology, urology and colorectal wards, where she developed a specialist interest in pelvic floor, bladder and bowel care. She became a Continence Advisor in 1998 and a Pelvic Floor Specialist Nurse in 2001. Throughout her career Sue has practised Nurse-Led Continence, Biofeedback, Transanal irrigation, SNS Sacral Nerve Stimulation and PTNS Percutaneous Tibial Nerve Stimulation treatment clinics. Sue is an experienced non-medical prescriber (V300) regularly prescribing bladder and bowel related medicines and products.

NICE have published Sue's shared learning experiences. Sue is passionate about promoting and campaigning for best practice bladder and bowel care in the UK and has previously written articles for magazines, performed radio interviews with celebrities and attended many roadshows. She is an active member of the RCN and has recently collaborated on shared projects with the Spinal Injuries Association (SIA) improving bladder and bowel care in spinal cord injury. It's time to put incontinence on the NHS quality agenda.
Karen Irwin
Service Manager / Specialist Nurse
Karen qualified in Canterbury, as a Registered General Nurse, initially working in neurosciences, later moving into community nursing, qualifying as a District Nurse. It is at this point, she gained a passion for continence care, which led her to move to continence services in 1995, developing and setting up services, to include residential care, which at that time, was a relatively new initiative. The project was nationally recognised, being highly commended in the nursing times awards.
In 2000, Karen led a project, to develop the already well-established continence services, across 2 health authorities, as was, for patients with functional bowel issues, developing and implementing care pathways. This project was nationally recognised, winning the Continence Foundation Award. On completing the project, Karen was appointment Lead Specialist Bowel Nurse. She spent a seconded period, to the regional NW Medicines Management Network for 18 months.
Karen currently holds a dual role, both that of Service Manager at the national charity Bladder & Bowel UK (BBUK) and continues to work as an NHS Specialist Nurse, in a regional pelvic floor / functional bowel service.
Karen is delighted to be representing member of the Bladder and Bowel Forum. She is looking forward to contributing to the continued work and projects and also hopes to bring an added third sector perspective to the forum.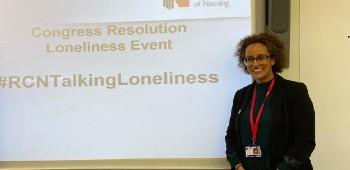 Ofrah Muflahi
RCN Professional Lead – Nursing Support Workers and Long Term Conditions, Nursing
Ofrah's passion for nursing started at the age of 14 when she noted the care being provided by nursing staff who looked after her unwell mother.
20+ years on Ofrah is now a highly competent nurse with experience in paediatrics, quality governance, project management, Long term conditions and quality improvement. She was the Mary Seacole Leadership Award winner in 2008 and is passionate about her role in order to deliver excellent care, ethical leadership and innovation.
Page last updated - 09/10/2020