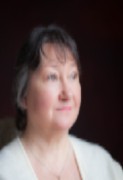 Doreen Crawford
Forum Chair
Doreen was a teacher before she became a nurse and first trained as an SRN in Warwickshire 1981, before progressing to the RSCN in Staffordshire in 1985. There were a variety of general children's wards clinical posts in a variety of setting before she specialised in neonatal care undertaking the neonatal intensive care qualifications. She took her first Degree from Kings College and completed a Master's at De Montfort University.
She made a successful transition from a senior clinical post to a return to teaching, this time pre-and post-registration nurses and midwives. During a long career Doreen has been privileged to care for sick infants and children, teach others to do the same and see the service we offer develop. She is now semi-retired but influences and supports the development of children's nursing at a strategic level.
Doreen has been a member of the RCN since 1983 and from 2000 has represented the RCN in an expert advisory capacity, for example the Neonatal Toolkit (2009) and the Neonatal Transformational Review which is now in an implementation phase. She has supported the CQC on inspections, supported the development of NICE Guidance and has been a consultant nurse for the NCYP journal since 2010.
Doreen remains passionate about the future of children's nursing and influencing the standards of care for the benefit of children and their families.

Angela Cole
Angela is a Clinical Nurse Specialist in Paediatric Intestinal Failure at The Royal London Hospital. Angela qualified at St Bartholomew's Hospital (City University) as a RSCN in 1999. She worked at St Bartholomew's Hospital and The Royal London Hospital, where her interest in Paediatric Gastroenterology developed.
Angela was the Clinical Nurse Specialist for children and young adults with Inflammatory Bowel Disease at The Royal London Hospital, she was instrumental in establishing the Paediatric Inflammatory Bowel Disease nursing service. During this role she developed a key interest in the transition process for young people from paediatric services into adult services.
Angela's current role is to provide support and education to patients/parents/carers with Intestinal Failure requiring Home Parenteral Nutrition. Angela works with and supports the multi disciplinary team to ensure that children and families receiving Home Parenteral Nutrition have access to continuing care, respite services, education and other resources to promote the importance, of children and young people having the opportunities to reach their full potential. Supporting everyone working with the child and family is key to this process. Angela also leads on promoting independence through the transition into adult services, working closely with young people and families to teach the specialist nursing tasks as well as promoting adherence and compliance.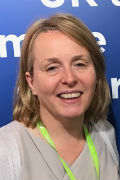 Christine Whistler
Christine is a clinical nurse specialist in paediatric endocrinology at the Royal Berkshire hospital. Christine qualified at the Westminster hospital as a registered general nurse in 1991; completing the paediatric conversion course at the London hospital in 1996, she worked at the Middlesex hospital where her interest in paediatric endocrinology began.
Christine's current key role is to provide support and education to patients with complex endocrine conditions during diagnosis, treatments and ongoing care. Christine has developed nurse led endocrine clinics and more recently set up virtual thyroid clinics. She always strives to maintain the provision of a high quality care for children and adolescents with endocrine problems. She is also committed and proactive in her role to improve transition for adolescents to adult services.
She has continued to gain further academic qualifications including a BSC in professional nursing and a post graduate certificate in Independent and Supplementary Prescribing. Christine is looking forward to her role within the forum and is happy to be contacted regarding any endocrine issues that need to be addressed.

Jacqueline Johnstone
Jacqueline is an Advanced Neonatal Nurse Practitioner, Non-Medical Prescriber and children's Nurse. She now works mainly in academia, currently lecturing at Queen's University Belfast. She teaches throughout the nursing fields and across pre-registration, post graduate and CPD curriculums. Jacqueline has been involved in developing various curriculums as well as a pre-registration Neonatal Pathway to support recruitment and retention of newly qualified nurses into the neonatal specialist environment. She is an External Examiner for Masters modules and pathway programme at the University of the West of Scotland.

Clinically Jacqueline has worked in tertiary intensive and surgical centres across the United Kingdom. She developed a Manual Handling Risk Assessment tool she presents at International and National conferences. The tool is currently being used in several hospitals.

Jacqueline also has a Law degree and is a Fellow of the Higher Education Academy and a Specialist Advisor for The Care Quality Commission. She has written several articles and chapters in books and presents at various National and International conferences. She is a peer reviewer for journals and textbooks and represents the Neonatal Nurses Association on the SANDS National Bereavement Care Pathway, as well as being a member of the RCN CYP Specialist Forum Committee Member.
Nellie Kumaralingam
Teenage Cancer Trust Lead Nurse – Teenagers and Young Adults
Nellie works at The Royal Marsden NHS Foundation Trust as the Teenage Cancer Trust Lead Nurse for TYA. The role covers the South Thames region which is South Thames, Surrey, Sussex and Kent. Nellie works closely with NHS organisations and Teenage Cancer Trust to develop or improve TYA services in the South Thames region. She is a member of the TYA Network and has been working closely with them to introduce the new TYA ODN's. She works with the Cancer Alliances and the TYA Network Chairs to develop work programmes for the Network, Principle Treatment Centre and Designated Hospitals. In her current role Nellie has developed a TYA Transition Practitioner role which is a two year project to develop transition pathways for children with cancer to adult services. These pathways will be developed and implemented throughout the region and provide individual pathways for each tumour site i.e. brain tumours.
Since qualifying as a nurse, Nellie has worked in a variety of health service settings, including primary and secondary care, private and corporate healthcare. Nellie has a Masters in Advanced Nursing Practice and has worked as an ANP in a number of areas. Nellie is a cancer nurse with a specialist interest in Teenagers and Young Adults with Cancer (TYAC). Other areas of interest include advanced practice and Patient and Public Involvement/ Engagement (PPI/E). Nellie developed Trainee TYA ANP pathways to enable trainee ANP's to get wide experience and education prior to embarking on an ANP career.
Nellie is passionate about improving the experience of young people with cancer and giving them a voice in the development of TYA services.
Rachel McQueen
Lecturer in Children's Nursing, Sheffield Hallam University
Rachel qualified as a Registered Nurse (Child) in 2004, having trained at City University, London. After 2 years in the acute setting, mainly working in ambulatory and day surgery settings Rachel moved into school nursing. She gained her Specialist Community Public health Nurse- School Nursing qualification in 2010. During this time she developed a keen interest in the health of young people, leading to her taking a post as the nurse in a Youth Offending Team.
Rachel then moved into a unique role as the Trust-wide nurse for Children and Young People within a large acute Trust providing secondary and tertiary care to adults. A large component of this work was to embed developmentally appropriate healthcare for young people as well as working with clinical teams across the Trust to develop transitional care services for young people moving into adult services. She was involved in the development of a team to support this work, including the direct support to young people with complex health needs and their families moving into adult services.
Rachel has recently taken a new post at Sheffield Hallam University, joining as a Lecturer in Children's Nursing. Rachel is looking forward to working with the next generation of children's nurses, as well as nurses from other branches, particularly sharing her passion for improving the health of young people.
Page last updated - 16/03/2022