Francesca Steyn
Forum Chair
Director of Fertility Services, Peppy Health
Francesca Steyn has a special interest in gamete donation and surrogacy and training and development for nurses and HCA's within the fertility setting. She qualified from London Southbank University in 2005 and went on to work in HIV and Sexual health care, where she developed an interest in women's health, which then led her into fertility.

She has worked in various busy London units in both the NHS and private sectors and has had the opportunity to learn and develop a wide range of skills, including performing surgical sperm retrievals under consultant supervision, assisting with the management of the fertility needs of patients diagnosed with a blood borne virus, managing large donation programmes and leading and implementing surrogacy programmes.

Francesca has co-authored RCN publications and guidance for fertility nursing staff and has published Department of Health guidance on surrogacy best practice and care in surrogate births. She was awarded surrogacy professional of the year in both 2018 and 2019 at the National Surrogacy Awards and has had the opportunity to present her work on both national and international platforms.

Francesca was a previous committee member of the forum and is very pleased to have been appointed as chair and to be able to lead the forum, support fertility nursing staff and continue the fantastic work that the group has already achieved.
Jill Wilson
Fertility Nurse Specialist, Priory Fertility Centre
Jill qualified as a nurse in 1984 having trained at the Queen Elizabeth School of Nursing in Birmingham. Before becoming a Fertility Nurse she specialised in Orthopaedics and was the Senior Sister of a busy Female trauma and orthopaedic ward ,winning Ward of the Year. She then set up an award winning Orthopaedic pre-admission clinic to improve the patient journey through surgery and reduce hospital in patient stay.
Jill has been a Fertility nurse since 1995, working initially to provide a satellite service before moving to BMI Priory Fertility centre where she worked for 17 years. She was the recipient of the Canadian Nurse Exchange prize from BFS in 2007. In 2017 she was appointed as the Nurse Manager of CARE Fertility in Birmingham and was tasked with setting up the clinic service with a small team of Fertility specialists. Jill spent her time at CARE being both clinical and managerial. She trained and developed a team of nurses to become specialised in looking after Fertility patients.
In 2020 Jill returned to the Priory Fertility centre where she is thoroughly enjoying her nursing role which involves ultrasound scanning, theatre work, treatment planning and counselling and supporting couples through treatment.
Jill has been representing Fertility nurses as a Forum member for seven years and believes the Forum to be very important in driving the speciality of Fertility Nursing forward and to be a voice for the Nurses in this field.
Jodie Parry
Lead Fertility Nurse/Matron, Wales Fertility Institute
Jodie studied for her degree in Adult Nursing at Coventry University and graduated in 2006. She began her nursing career working in Trauma and Orthopaedics at the University Hospital of Wales, Cardiff. After 2 years she joined the team at IVF Wales, it was there that Jodie truly found the speciality she wanted to spend the rest of her career working in. In 2008 Jodie completed the Women and Health degree module through Cardiff University, then in 2011 completed a postgraduate certificate in Gynaecological Ultrasound.

In 2012 Jodie joined the team at the Centre for Reproduction and Gynaecology Wales. Working as a senior nurse Jodie was keen to advance her skills and knowledge further and in 2018 embarked on a MSc in Advanced Fertility Practice and graduated from Edge Hill University in 2018. Jodie is now qualified to perform egg retrievals and embryo transfers as part of her role.

Jodie has now returned to the NHS to take up the role of Lead Fertility Nurse/Matron and is highly motivated and passionate to further develop the service and staff in this new exciting role.

As part of her role on the forum committee, Jodie hopes to continue the amazing work already achieved by the group in raising the profile of fertility nursing. Jodie feels fortunate to have met and worked with so many wonderful patients and professionals who have gently shaped and developed her practice that she wants to honour this by inspiring and empowering fertility nurses to become experts in their practice with access to current information, education, training and support in order to facilitate best practice for our patients.
Vacant position
Job title
Biography
Vacant position
Job title
Biography

Chantel Dunn
Senior Nurse Practitioner, Assisted Conception Unit - Guys and St Thomas' NHS Foundation Trust
Chantel qualified in 2001 with a Dip HE in Adult Nursing, and began her nursing career working on an acute Surgical Urology Ward for 3.5 years whilst working towards her Degree. In late 2004 she joined the nursing team at The Assisted Conception Unit at UCLH (now known as CRGH) where she developed her passion for fertility nursing. With almost 16 years of NHS and Private sector experience within Reproductive Medicine, Chantel has gained an in-depth knowledge of IVF, and relevant legislation, and loves the challenges which come from working as a team, and independently.
Chantel has been a qualified counsellor since 2015, which she feels has greatly enhanced her nursing practice; allowing her to be more grounded and empathetic in her approach to providing nursing care in the IVF setting and supporting patients through treatment. She is a champion of diversity and inclusion, and has been the lead link nurse for PGH, Donor Insemination, and Ovum Donation services.
Chantel is committed to best practice in nursing, and believes we can work together to continue to provide a high standard of care to our patients through teaching, peer supervision and mentorship within the MDT. She feels part of her role on the forum committee is to continue to empower fertility nurses through training, promotion of emotional support and well being, and continued engagement in the processes which shape this unique field of nursing.
Louise Mitchell
Louise qualified as a nurse in 2001 and after spending three years working in surgery, she joined the Cardiff Assisted Reproduction Unit (CARU) in 2004. She spent the next 6 years working in CARU treating NHS and self funded patients and developed a real passion for Women's Health. She completed the Women and Health degree module through Cardiff University and qualified as a family planning nurse.
In 2010 she completed a post graduate certificate in gynaecological ultrasound and moved to London where she began working for the London Women's Clinic on Harley Street as a senior fertility nurse. In 2012 she went back to the NHS and worked as a specialist gynaecologist nurse sonographer in Ealing Hospital Early Pregnancy Unit to help further development of her ultrasound skills and help train junior doctors in ultrasound.
Following the birth of her son, she moved back to Wales the took up the post of deputy nurse manager in the London Women's Clinic Wales, before becoming the Nurse Manager of the London Women's Clinic Bristol where she helped to set up the service.
Louise is also a member of the HFEA Licensed Centre's Panel where she helps to represent clinics working together with the HFEA.
Louise has been a member of the forum since 2004 and is thrilled to be part of the steering committee as she feels that the forum is an essential resource for fertility nurses by helping with career development and progression, sharing knowledge and working with other agencies such as the BFS and SING to help raise the profile of fertility nurses in the UK.
Jane Denton FRCN CBE
Director, Multiple Births Foundation
Jane Denton is Director of the Multiple Births Foundation (MBF), a charity based at Queen Charlotte's & Chelsea Hospital, London, which works with professionals to raise awareness and improve services to meet the specific and special needs of multiple birth families.
Her professional background is nursing and midwifery with a specialist interest in infertility and genetics. Jane led the development of the nursing team in one of the first IVF programmes in the UK. As the implications of multiple births arising from infertility treatments began to emerge in the late 1980s she moved to the MBF to address the problems and became Director in 1998. She has written and lectured extensively on all aspects of multiple births and has contributed to substantial change in public and professional attitudes towards them.
A former member and deputy chair of the Human Fertilisation & Embryology Authority and a founder member of the Royal College of Nursing Fertility Nursing Forum, Jane has wide experience of the clinical, scientific and ethical challenges presented by the advances in reproductive technologies. She is sub-editor for nursing, counselling and ethics for the journal Human Fertility.
Jane was made a Fellow of the RCN in 2006, an Honorary Fellow of the British Fertility Society in 2008 was awarded a CBE in the Queen's Birthday Honours in 2007 for services to nursing and healthcare.
Forum committee members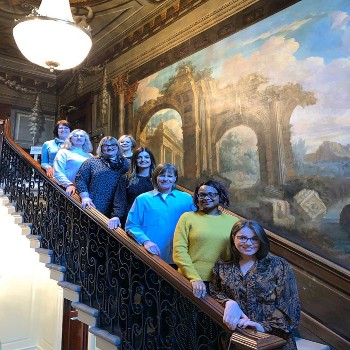 Page last updated - 10/03/2021