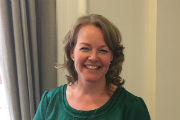 Fiona Hibberts
Forum Chair
Consultant Nurse/ Co-Head of the Nightingale Academy at Guy's and St. Thomas' NHS Trust, London
Fiona's career spans over 22 years within the GI speciality. Her roles have included Practice Development, Lecturer Practitioner, Clinical Nurse Specialist and since 2006 Consultant Nurse. She had led many service and practice development initiatives during that time including; Enhanced recovery after Colorectal surgery, which was then rolled out to Upper GI surgery, Urology & Gynaecology, significantly reducing length of stay and improving care for patients. Setting up the Pelvic Floor Unit, now a leading tertiary referral unit, including the bowel function service. Fiona established telephone clinics within the colorectal service; which now form the main initial assessment in the colorectal, "2 week wait" and pelvic floor referral pathways. In the past she has managed Stoma, IBD, Pelvic floor, Cancer and GI surgical nurse specialist teams, encouraging professional development, to improve patient care. She is a founding faculty member for the GI Academy and passionate about Gastrointestinal Nursing, education & research. She is a teaching fellow at both KCL and LSBU and actively involved in education, has spoken at national conferences on a rage of GI topics and has published on many GI Nursing topics.
Her clinical commitments include leading the Family history of cancer services, one stop rectal bleeding clinic which includes endoscopy, Perianal Crohn's and proctology clinics. She is an endoscopist, independent prescriber and advanced practitioner.
Fiona has recently taken on a corporate role in her trust to establish the Nightingale Academy, to lead Practice Innovation, Education & Research for the trust. She has just started on the steering committee and is delighted to be representing GI surgical colleagues within the forum. Please get in-touch.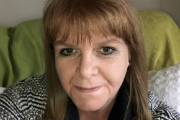 Alison Ball
Endoscopy Clinical Service Lead, Nottingham University Hospitals NHS Trust
Alison Ball has been employed at Nottingham University Hospitals since 2018. Previous managerial endoscopy posts have been at Milton Keynes University Hospital NHS Foundation Trust, Bedford Hospital NHS Trust, University Hospitals of Birmingham NHS Foundation Trust and she began her career in Endoscopy at Glenfield Hospital, part of University Hospitals of Leicester NHS Trust. Her background prior to endoscopy was in medicine and gastroenterology. Her current role consists of both clinical and operational management within endoscopy at Divisional level within Surgery.
Alison Ball is also a member of the RCN Education Forum and is passionate about education for nurses. She is currently chairperson of the East Anglian Endoscopy Associates Group (EAEAG) planning educational events and supporting GI staff.
She has been part of the GIN (Gastrointestinal Endoscopy for Nurses) Faculty since it was originally introduced in 2008 and teaches regularly on ENDO 1 which replaced this as part of the JETs Workforce Programme through JAG.
Alison was a member of the British Society of Gastrointestinal Nurses Association (BSGNA) for 9 years. Her original role was as Regional Group Lead and the last four years were spent as chairperson. This provided an opportunity to work on collaborative projects such as the review of staffing in Endoscopy Units in conjunction with other organisations such as JAG, and colleagues from all of the devolved nations.
The RCN Gastrointestinal Nursing Forum is also represented by Alison through attendance at regular meetings with BSGNA to keep them updated on the work that the forum is doing and also to feedback any future developments within BSGNA that may be relevant to the members.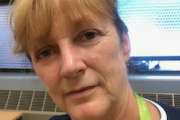 Cathy Regan 
Endoscopy nurse practitioner, Royal Wolverhampton Hospitals NHS Trust
My journey in gastroenterology began when I started working as a nurse in endoscopy in 2000 at Shrewsbury and Telford Hospitals Trust. Prior to that I had been working in elderly care in the private sector. I really enjoyed endoscopy and in 2008 I began training as a Nurse Endoscopist and became JAG certified in flexible sigmoidoscopy. I then moved to Mid Staffordhire NHS Trust and gained JAG certification in colonoscopy and gastroscopy.
I have since joined the Royal Wolverhampton NHS Trust and continue my practice there. In my current role I carry out gastroscopy, colonoscopy and flexi-sigs including Bowel Scope and gastroenterology clinics. I am an independent prescriber and at present I'm working on my Masters. I love training the endoscopists of the future, both in daily practice and as faculty with the West Midlands Endoscopy Training Centre several times a year. I am also a member of JAG QA Training Working Group and BSGNA. I applied to join the Gastro Forum because I love the specialty and want to help share that passion with all levels of GI nurses.
Claire Coughlan
Consultant Nurse - Colorectal Cancer, Lewisham and Greenwich NHS Trust
Claire has worked in gastrointestinal nursing for 23 years. Her interest in colorectal nursing began as a student nurse in Sheffield and developed as a staff nurse on colorectal surgical wards at St George's Hospital, Tooting and King's College Hospital, London. In 1997 she became a Stoma Care CNS at Bromley Hospital and began an MA in Nursing Studies with a focus on colorectal cancer. Upon being appointed as a Colorectal Cancer CNS at Guy's and St Thomas' NHS Foundation Trust she developed the trust's first nurse-led colorectal cancer follow up clinic whilst undertaking her Master's level research in cancer follow up.
From 2003 Claire has worked at Lewisham and Greenwich NHS Trust, where she is currently a Consultant Nurse leading a large cross-site colorectal and stoma service that treats over 200 newly diagnosed cancer patients each year. During that time Claire has been a nurse endoscopist, and led development of the two week wait telephone assessment service within the Trust. She also runs a rectal bleeding clinic for the management of haemorrhoids and continues to run a cancer follow up clinic and lead on the trust's survivorship program. Claire also has an interest in cancer genetics and runs a colorectal family history clinic and has written for publication on hereditary colorectal cancer.
Claire is currently in the second year of her professional doctorate; her research focuses on accessibility of the cancer survivorship agenda. She has just been appointed to the forum and is delighted to have the opportunity to represent colorectal cancer and stoma colleagues on the committee.
Julie Duncan
Clinical Nurse Educator in IBD, Takeda UK Ltd
Education and development have been central to all Julie's roles in GI nursing over the last 26 years. She developed her interest in GI / colorectal nursing during her training at Edinburgh Royal Infirmary. She moved to St Mark's Hospital, Harrow in 1995 working as a staff nurse, junior sister then ward manager in a surgical/medical ward. In 2000 she joined the internationally renowned team of biofeedback specialist nurses at St Mark's, becoming the Lead Nurse for the service in 2002. At the Royal Marsden Hospital, she established the first nurse practitioner post for patients with late GI effects following cancer treatment. From 2008-2018 she re-established and developed the IBD specialist nursing service at Guy's and St Thomas' hospitals.
In addition to advanced clinical practice, Julie has had educational roles within the former Burdett Institute of Gastrointestinal Nursing and as honorary lecturer at King's College London. She has published widely in journals and book chapters, is a co-editor of the first nursing textbook on IBD 'Inflammatory Bowel Disease Nursing' and contributor to N-ECCO consensus statements on the role of the IBD nurse which have shaped IBD specialist nursing practice in Europe. Julie has held strategic roles as UK representative to N-ECCO and as the National Chair then Secretary to the RCN IBD Network. She has been Primary Investigator and co-researcher on a number of nursing research projects.
Since 2018 Julie has worked full time for Takeda UK within the GI medical team co-creating and delivering 'IBD Empower', a non-promotional, multi-channel education programme which aims to empower IBD Clinical Nurse Specialists to achieve their potential and optimise patient care. She has just joined the Committee and hopes to actively engage with Forum members to encourage not only clinical excellence in practice, but to support and up-skill GI nurses to be more confident in seeking and leading nursing research and publishing opportunities.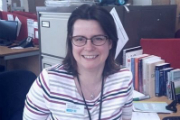 Kathy Whayman
Senior Lecturer in Adult Nursing, University of Hertfordshire
Kathy is a Senior Lecturer in Adult Nursing at the University of Hertfordshire. Her clinical background is in gastrointestinal nursing, and colorectal cancer nursing, when she worked at St Mark's Hospital from 1999 - 2009. She has been in nursing education since 2005, and worked within the Burdett Institute of Gastrointestinal Nursing, establishing education and research programmes for nurses within this speciality. Her current job involves a variety of roles including teaching on nursing practice, gastrointestinal conditions, long term conditions, cancer and end of life care. She is also involved in research, service user involvement, and is a link lecturer to support learning and mentorship in specialist clinical placements.

She enjoys writing for publication and with colleagues co-edited a book entitled 'Inflammatory Bowel Disease Nursing' published in 2011. Within the Burdett Institute, she co-edited the 'Oxford Handbook of Gastrointestinal Nursing', published in 2008, and she has also written articles for nursing journals on a variety of nursing topics. Kathy has worked with many different members of gastrointestinal nursing teams and charitable organisations over the last 15 years, on many projects involving topics such as service development, curriculum development, education delivery, and research activity. She joined the RCN Gastrointestinal Nursing Forum committee in 2016 and her role will be to help develop social media for the Forum, and to help map current gastrointestinal nursing educational provision and research activity for the speciality.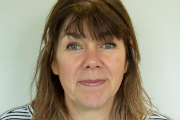 Rebekah Hill
Associate Professor, School Assessment Lead, Course Director for Acute, Critical & Emergency Care
I presently work as an Associate Professor within the School of Health Sciences, University of East Anglia. I have worked as a nurse in medical and gastroenterology settings for many years. I completed my PhD in 2012, which explored the experience of living with hepatitis C.
My current role involves both undergraduate and post graduate teaching across a range of professions; student supervision, clinical link work, module organisation as well as being the Director of Education and Assessment Lead within the school.
I currently work across all professions as an Advanced Life Support Instructor, as part of the faculty in the recognition and treatment of critical illness courses and clinically within gastroenterology medical nursing fields.
Page last updated - 28/01/2021