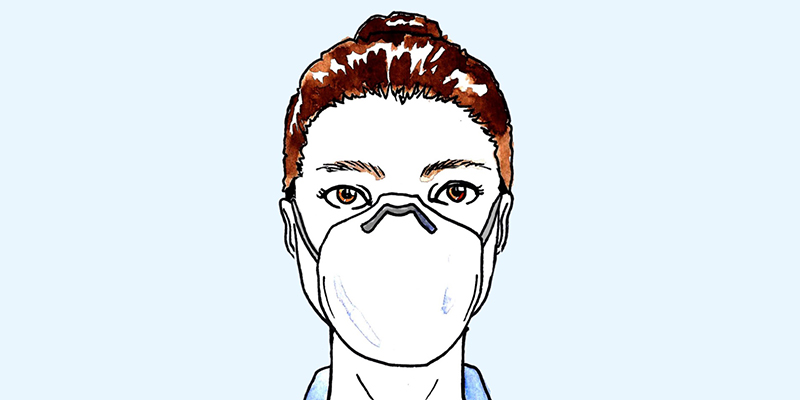 New guidance has been issued to NHS Boards and registered care home providers outlining the process line managers and staff should follow when requesting access to FFP3 (respirator) masks in place of Type IIR (surgical masks).
The guidance follows repeated calls from RCN Scotland for nursing staff to have access to higher levels of PPE and robust risk assessment processes, in light of the current evidence on airborne transmission of Covid-19.
The updated guidance means that staff can request a risk assessment from their line manager if they feel they need to have access to an FFP3 mask to ensure their personal safety. FFP3 masks will continue to be accessible to staff undertaking an AGP in a respiratory pathway and in a non-respiratory pathway where a member of staff has concerns about potential Covid-19 exposure, as before.
The RCN has developed a Covid-19 risk assessment toolkit to support healthcare professionals consider and manage risks associated with the transmission of Covid-19, and aid local decision making on the level of personal protective equipment (PPE) required to protect them whilst at work.
Commenting, Colin Poolman, Director, RCN Scotland said: "This updated guidance is long overdue, and now means that staff working across health and social care in Scotland should be able to request higher levels of protection if they feel they need it.
"The RCN will continue to press for all health and care workers to be provided with FFP3 masks for contact with people who are known to be or potentially infected with Covid-19. We also remain concerned that suitable risk assessments are not being undertaken or not being actively shared by employers, so this must change in light of the updated guidance.
"As the legal requirement for mask wearing for the general population is lifted nurses and nursing support workers across Scotland will be hoping the public will continue to take precautions to reduce the spread of the virus.
"The current high levels of transmission mean that nursing staff have seen no let-up in the pressures on the NHS and social care services. That is why is it absolutely right that we do everything we can to help protect staff.
"In addition to this guidance, members can also use our Covid-19 risk assessment toolkit and if they have any concerns, raise them with their employer as per our RCN Raising concerns advice."
The updated guidance is outlined in DL (2022) 10.
The RCN's position on PPE can be found here.