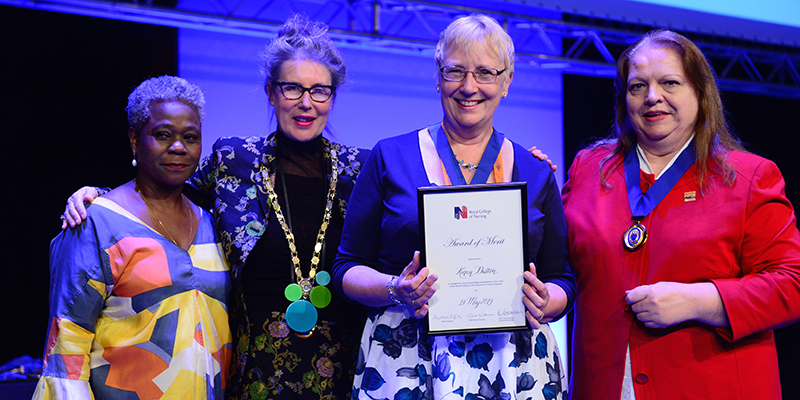 Celebrating the very best in nursing, the RCN Award of Merit is the highest honour the RCN bestows for service and is presented to those who have made an exceptional contribution to the Royal College and have shown outstanding commitment and support to our members.
Peta Clark, Operational Manager for RCN Northern region said:
"Karen is incredibly enthusiastic, passionate and committed to lifelong workplace learning and creating learning opportunities for others. She has worked to promote and facilitate learning to RCN activists, members and staff across the Cumbria branch and her workplace. She focuses on developing every member of the nursing family involved in care, helping them to deliver quality care for patients".
As an RCN learning representative at Cumbria Partnership NHS Foundation Trust, Karen Dutton has worked at a national, regional and local level serving as a member and Vice-Chair of the UK Learning Representatives Committee for eight years. Karen has helped to develop RCN policies on lifelong learning and career development in the workplace as well as giving a powerful voice to learning reps across England. Karen's outstanding contribution was recently recognised and featured as part of the RCN's 'Value of Reps' project.
Karen has also been a member of the Northern Region Board, acting as an advocate for and ensuring that lifelong learning was part of the RCN's regional agenda and fully reflected in the work of the Northern Board and RCN. She has also mentored members and activists at a local level, helping to galvanise and bring new members into the branch, opening up branch CPD sessions to a wider audience and used her social media skills on Twitter to communicate her message and engage with members.
Glenn Turp, Northern Regional Director, said:
"Karen embodies and upholds the RCN values in helping nurses and staff realise their full potential, playing an enormously important role in supporting the learning and career development of members in the workplace. Karen is a huge asset to the Royal College, her employers and to the NHS and truly deserves to be recognised for the outstanding contribution she has made.
I am very proud of Karen and of all our representatives who work tirelessly for members 'behind the scenes' to make positive changes. It is great to see their successes being held up to the spotlight and celebrated."