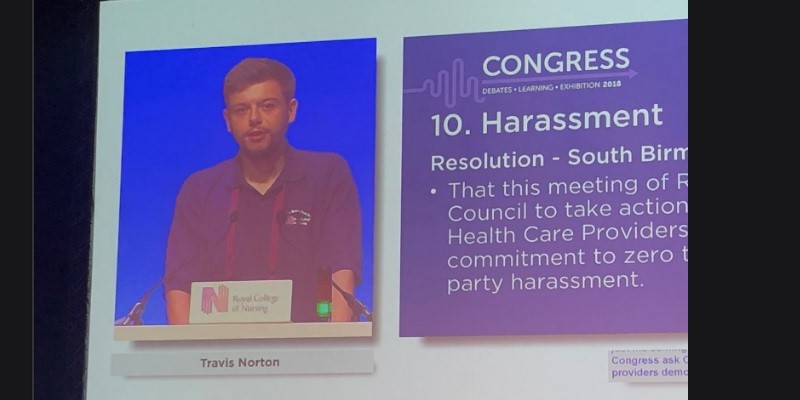 A resolution asking the Royal College of Nursing's governing council to take action to ensure employers fulfil their responsibility to protect staff was passed unanimously in a vote at the RCN's annual Congress in Belfast.
The results of the most recent NHS staff survey, published in March, show 27% of staff experienced harassment, bullying or abuse at work from patients or members of the public at least once in the previous 12 months.
At 37%, the figure for nurses – the largest group of workers in the health service – was significantly higher.
Proposing the motion on behalf of the RCN's South Birmingham branch, University of Birmingham nursing student Travis Norton said: "This resolution asks Council to take action to ensure that all health care providers demonstrate a commitment to zero tolerance of third party harassment."
The proposal was seconded by Birmingham West and Sandwell branch Chair, Phil Cole, who said: "The NHS Constitution for England identifies seven rights for staff. Included in that is the right to have healthy and safe working conditions and an environment free from harassment, bullying or violence, as well as the right to be treated fairly, equally and free from discrimination.
"We've seen significant increases in violence and aggression directed towards staff in mental health and learning disability provision, and we've heard about acute sector violence as well, with very limited redress against perpetrators.
"Robust protection by employers against third party harassment by patients, relatives or visitors would undoubtedly reduce the likelihood of harassment progressing to violence. Zero tolerance policies and campaigns would not only alert the public that harassment is unacceptable, but empower colleagues to stand up and challenge abuse."
Mitzi Wilson, Birmingham West and Sandwell branch member and West Midland's representative on the RCN UK Safety Representatives Committee, said: "Your job description does not say you may come to work and accept unwanted, annoying actions, threats or demands. Organisations can demonstrate their zero tolerance to third party harassment by having supportive measures written in their policies.
"Providing staff with regular mandatory training will give them the tools to react straight away to support each other and to stop this unacceptable behaviour. Then all staff will know exactly what to do. A genuine commitment from management and colleagues will improve staff confidence and morale, and therefore benefit patient care."
Birmingham East, North and Solihull branch Diversity Champion Bev Baker said: "We know that social behaviour is evolving, we know that we face huge adversities out there in the workforce. The emergency services don't have the same kudos they used to have; we thought when you're a police office, a fireman, a nurse, you automatically gained respect, but that is no longer evident.
"As a nurse myself for 34 years, I've seen many changes. Basically, my stance is zero tolerance (towards harassment) – I will not tolerate, I do not tolerate, I empower others not to tolerate. Zero tolerance is the only way forward."