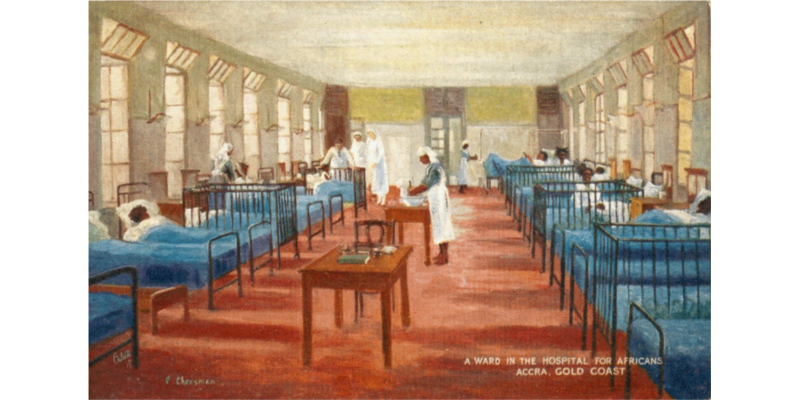 In our digital archive we hold the
Boardman postcard collection
, which consists of 1061 nursing postcards. This collection was bequeathed to the Royal College of Nursing Archives by Elizabeth Boardman, a postcard collector specialising in nursing and hospital related postcards. Ranging from portraits of nurses, First World War cartoons and in this case an overseas hospital you can find some interesting images. Some of the cards are unused, but many have been written on and are postmarked and have stamps attached.
This postcard entitled 'Ward in Hospital for Africans, Accra' illustrates a ward in a hospital, in Accra, Gold Coast (modern Ghana). Although the reverse of the card has not been written on it does bear the Royal Warrant of Raphael Tuck and Sons and the original copyright held by the Gold Coast Government. The hospital depicted opened in 1923 and the postcard is dated around the same time. At it's opening the hospital accommodated over 200 patients. It is suspected to depict Korle Bu Hospital, which today has maintained its premier status as a health facility in Ghana.
The gorgeous watercolour image shows African and European staff working on the ward – It was really very common to see British nurses working overseas. The Colonial Nursing Association operated as an agency for the Colonial office and recruited 8,400 women to work as nurses throughout the British Empire. Nurses were sent to every dominion and territory of the Empire.
There's lots to explore in our
digital archive
.