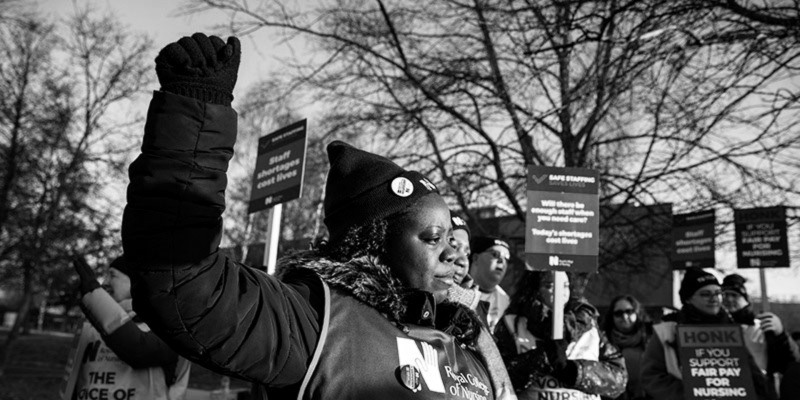 The UK government has launched a consultation on introducing minimum service level (MSL) regulations that would require some doctors and nurses to work during strikes.
The government says it's to protect patient safety, but the RCN argues patient safety is compromised every day due to the chronic shortage of nursing staff.
The consultation will consider introducing MSLs to cover urgent, emergency and time-critical hospital-based health services.
Junior doctors and consultants are striking this week in a long-running dispute regarding pay and working conditions. RCN members working for the NHS in England took part in strike action over a prolonged period from last December until May due to unsafe staffing and years of real-term pay cuts. During that time, we voluntarily agreed safety critical derogations to strike action with employers.
RCN Chief Nurse Professor Nicola Ranger said: "The RCN has always been responsible in taking safe strike action, with concerns for patient safety at its core. However, nursing staff will tell you there are not safe staffing levels on non-strike days – and they are sometimes unable to provide the level of service and care patients need.
"Patients are routinely waiting hours for care or ending up being treated in corridors. There are also tens of thousands of unfilled nursing posts. That's why nurses took strike action – something that has proved to be the only way to get the voice of nursing staff heard.
"We don't believe these proposals will address the underlying long-term crisis in the NHS workforce and we will respond robustly to the consultation and share our experience of the past 12 months.
"Ultimately we believe the government should be focusing on investing in the nursing workforce – including by paying staff fairly and addressing the chronic staff shortages that are damaging the health service."
Earlier this year, we opposed the anti-strike bill and called for it to be dropped after an independent review concluded it was "not fit for purpose". Now the bill has received royal assent, nursing staff could be among many professionals who could lose their jobs for taking otherwise lawful strike action.
The RCN will strongly oppose any attempts to use this legislation to pass regulations that could limit the freedom of nursing staff to take strike action.