RCN Accreditation
Demonstrating excellence within the nursing community
Accreditation is the RCN seal of approval for health care training - a mark of quality. You can browse accredited events, resources and courses, or find out how to get your programme accredited.
Contact the accreditation team:
Centre for Professional Accreditation, Royal College of Nursing, 20 Cavendish Square, London W1G 0RN
020 7647 3526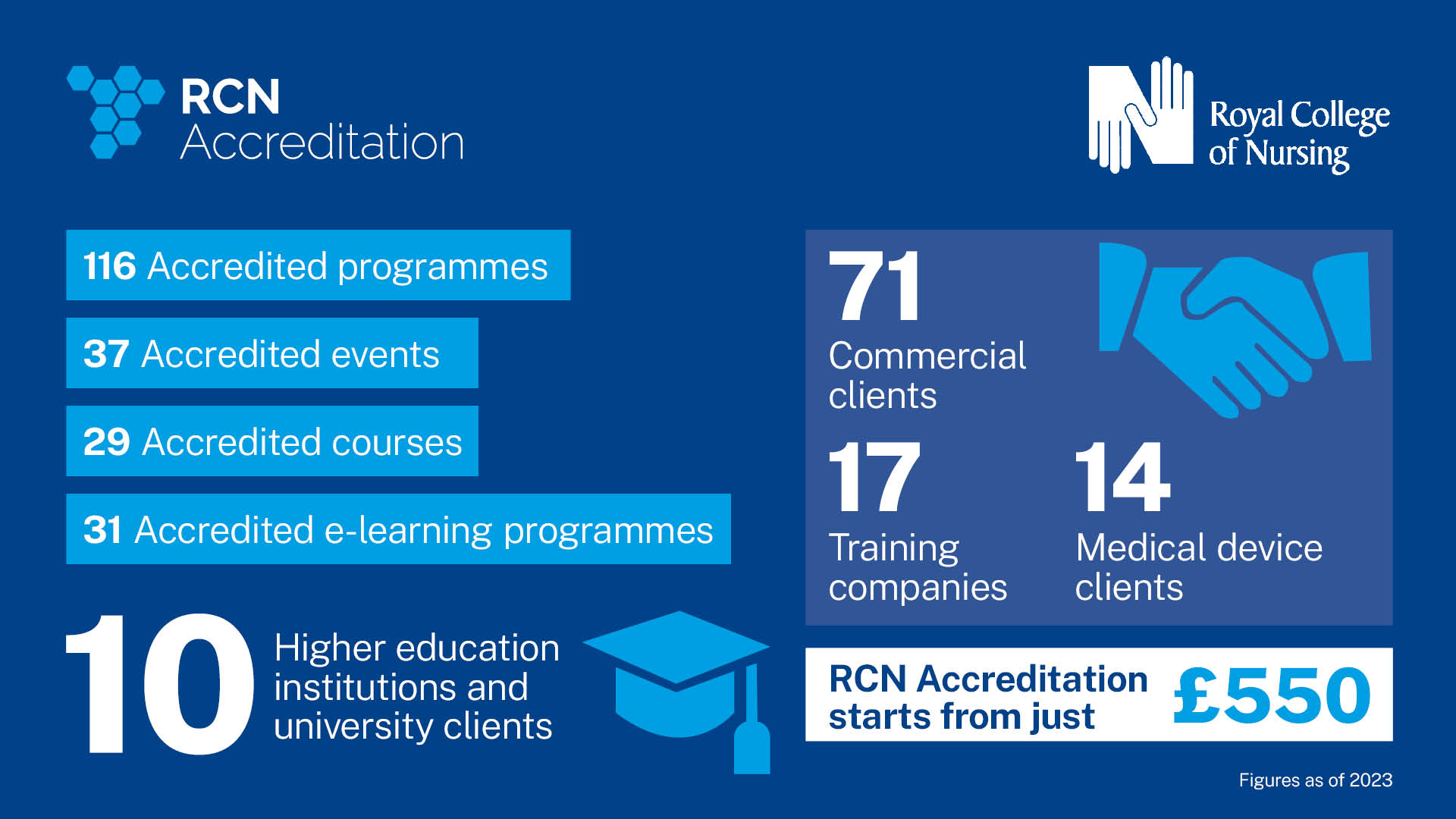 Why should learners always look for an RCN accredited course or resource?
All accredited programmes are subjected to a rigorous quality assessment process to ensure the learning and development initiatives meet the RCN's standards of excellence. As a delegate on an RCN accredited programme, you can guarantee that the content will promote best practice and lead to improved patient care.
Why should providers accredit their learning resources?
RCN Accreditation is a mark of quality. By accrediting the resources you provide, you are demonstrating your commitment to high quality education and continuing professional development, promoting best practice and improving patient care.
Benefits of RCN Accreditation
Enables you to stand out from your competitors, with use of the RCN Accredited mark

Aligns your organisation with the RCN and its reputation for excellence within the nursing sector

Demonstrates your effectiveness in educating nurses and the wider health care family

Allows you to use the accreditation review process as a staff professional development opportunity

Appeals to individuals and employers who need to choose the most effective use of their time and money
The RCN will consider accreditation of:
Events, courses, eLearning, credit-bearing degrees, resources, guidelines, as well as standards and competency frameworks in a wide range of topics.
RCN Accreditation makes you stand out from the crowd
RCN accreditation – a training provider's experience
Hear a longstanding client talking about her organisation's experience of RCN accreditation.
RCN Accreditation mission and vision statements
Our Mission
RCN accreditation promotes excellent standards in clinical practice, research, and leadership. A guarantee of evidence-based learning and development aimed at improving patient safety, high quality care and outcomes.

Our mission is to be the first choice for accreditation for organisations who are aiming to be world leaders in innovative education, learning and development initiatives.
We serve the nursing workforce and communities of practice at all levels, across all health and social care sectors in the UK.
Our Vision
The RCN is built on 105 years of professional expertise.

We are committed through the Royal Charter to promote the science and art of nursing, education and training in the profession of nursing.

Our Accreditation offer will support and enhance learning for the nursing profession and will foster an inclusive and diverse approach, using a wide range of methods and mediums, including digital, to reach colleagues locally, regionally, nationally and internationally.

Ask a senior staff member or decision maker in your organisation, such as the CEO, Training Manager, Quality Assurance Manager, Lead Practitioner, Lead Nurse, Account Manager or Education Development Lead, to complete our 'expression of interest' form.
We can consider requests for accreditation from training providers based within or outside of the UK, provided the training is aimed at a UK registered nursing audience and meets UK regulation, legislation, guidance, and standards for the UK registered nursing workforce.
The RCN accreditation programme accredits Continuing Professional Development (CPD) initiatives, this could be for training providers in both commercial and not for profit sectors and could include events, conferences, webinars, e-learning and resources.
The accreditation fee is banded and depends on contact hours of learning, its complexity and delivery sector.
Our fees start from just £500 – this is the entry point for learning delivered by the not-for-profit sector.
For your unique quotation please contact our experienced accreditation team on 020 7647 3647 or email accreditation@rcn.org.uk
The RCN reserves the right to update accreditation fees without prior notice
To ensure the learning is contemporaneous, RCN Accreditation lasts for one year. You can re-apply at the end of the accreditation period.
Once an application is received and the client has paid the Accreditation fee, the application will be peer-reviewed and assessed for accreditation. The client will be given feedback on their application, and make any necessary changes that may have been identified. Once the changes have been approved, the client will receive confirmation of RCN Accreditation.
It can take up to 10 weeks from date of payment to allow for the quality assurance process.
We can consider requests for accreditation from training providers based within or outside of the UK, provided the training is aimed at a UK registered nursing audience and meets UK regulation, legislation, guidance, and standards for the UK registered nursing workforce.
Testimonials 
"Our clients place high value on our RCN-accredited courses even those clients who are not registered nurses! Your reputation adds great value to our training as delegates know the standard of our training content will be high."
Infection Prevention Solutions
"As a nurse, I would seriously have to consider undertaking a programme if it was not RCN Accredited. As an education provider, is important for us to demonstrate our commitment to high quality education and CPD, promoting best practice in providing person-centred care. Being RCN Accredited validates this as a quality marker."
Health Action Training
"RCN Accreditation allows you to demonstrate that your education and learning resource passes our high quality standards. It shows our large health and social care membership, that you stand out from the crowd among other competitors."
Dr Nichola Ashby, Deputy Director of Nursing: Education, Research and Ethics
"RCN Accreditation gives the nursing profession the confidence to trust the quality of your education and learning resource. Apply now for that RCN seal of approval."
Gill Coverdale, UK Head of Professional Learning and Development

Develop your leadership skills using a bespoke coaching framework. For NHS, independent sector and social care organisations working at Level 6 and 7 or equivalent.

Our portfolio of courses includes Infection Prevention and Control, Leading the way: Improving Mental & Physical Health and Leading Sustainability in Health and Social Care.