Meet the Team
More information about the Forum committee, including biographies and contact information
Ken Hull
Forum Chair
Ken commenced nurse training in 2000, having changed careers in the late 1990s after ten years as a dairy farmer.
Ken worked at Bristol Royal Hospital for Children, initially working on a rotational programme (Bone Marrow Transplant, Cardiac, Paediatric Haematology / Oncology). Following this period he worked for six years as an oncology nurse and gained a First Class degree in Nursing Children and Young People with Cancer from Cardiff University.
From 2010 until late 2015, Ken worked as a CLIC Sargent Paediatric Oncology Outreach Nurse Specialist Key Worker and completed an MSc in Advanced Practice Cancer Nursing from Kings College London. This provided valuable networking opportunities and the chance to work closely with charity acute and community care health providers.
Late in 2015 Ken was appointed to the Lead Nurse post for a Children's Community Nursing Service.
He has previously served on the RCN CYP Specialist Care Forum steering committee and having changed clinical focus, has successfully been appointed to the RCN CYP Continuing and Community Care Forum.
Forum Committee 2020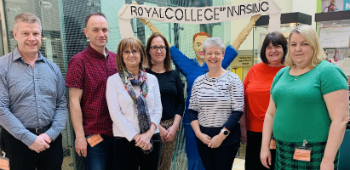 Gareth Jones
Gareth has worked almost entirely in the field of children with complex and palliative care needs since qualifying as a nurse in 1997. Initially as a ward (adolescent, oncology and cardiac) and latterly an emergency department nurse at The Bristol Royal Hospital for Children, he then obtained a BSc in Health and Community Practice (Specialist Community Children's Nurse). Gareth has since worked in various guises as a Community Children's Nurse. Currently he is the Head of Nursing and Disability for The Lifetime Service: a Joint Nursing and Psychology Service for children with complex health and palliative care needs as well as a Children's Continuing Care Team. He has a keen interest in the SEND reforms to ensure the best possible outcomes for children and young people.
In 2005, Gareth won the Maureen Acland Award (QNI) for a research project into Community Children's Nurses working in palliative care and this research was subsequently published in Child: Care, Health and Development, (2007).
Gareth has worked as a Senior Lecture at the University of the West of England, lectures at Bristol University and also worked alongside The Children's Clinical Strategic Networks in the South West.
Gareth has recently joined the RCN CYP Continuing and Community Care Forum and is a keen advocate for nursing in this specialty to help improve the knowledge and standard of care delivered to children and young people.
Joanna Grant
RGN/RSCN, DipHE Community Nursing
Joanna qualified as an RGN/RSCN in 1991 at Great Ormond Street hospital and has a wide-ranging background in both the NHS and the Independent sector. Choosing to work in the community very early on in her nursing career, Joanna has worked in a variety of settings such as special needs schools, children's community nursing and Children's Continuing Care.
More recently Joanna has worked with several independent healthcare providers as an advisor working to improve the level of care received by people in their own homes including children and their families.
Joanna currently works as Chief Nurse for Interserve Healthcare Ltd and is a specialist advisor to Care Quality Commission.
Joanna is passionate about supporting people to achieve their chosen goals whilst remaining in their own environment.
Kate Medhurst
Community Children's Service Manager, Shropshire Community Health Trust

Kate qualified as a RSCN in 2003 and went on to undertake the BSc(Hons) Specialist Practitioner (Community Children's Nursing) in 2006. In 2014, she completed the NHS leadership Academy Mary Seacole Award (Post graduate Certificate in Healthcare Leadership).
Kate started her CCN journey in South East London in 2006 until this year when she relocated and is experiencing service delivery amongst the challenges of rural living. Kate is now the Service Manager for the Community Children's Nursing Service for Shropshire, Telford and Wrekin which encompasses CCN, Special Schools, Respite, Immunisation and Vaccinations and Children's Diabetes Teams.
Kate is an active member in local and national forums to benchmark and explore areas of good practice.
Kate is passionate to increase awareness of Community Children's Nursing as a field of practice and has worked closely with the local universities to deliver sessions about what the role is as well as joining lectures on long term condition to demonstrate the community pathways.
Nicola Lewis
RGN; RSCN; BSc (HONS) CCN Team Manager for Abertawe- Bro-Morgannwg University health board, South Wales.
Nicola has been a Community Children's Nurse with Abertawe Bro-Morgannwg University Health Board since October 2000. Her previous background in Paediatric nursing includes General Paediatric inpatient care in East Glamorgan Hospital NHS Trust and the Princess of Wales Hospital NHS Trust.
Nicola gained her RSCN in 1995 at Birmingham Children's Hospital, following this she specialised in Paediatric Oncology and haematology at the Welsh regional unit at Llandough hospital in Cardiff gaining relevant clinical and theoretical qualifications. Nicola achieved her specialist practice BSc in Community Health Studies; CCN pathway at University of Wales, Swansea in July 2001.
Her areas of professional interest are to develop CCN services in line with government policy, ensuring that the emphasis for care closer to home encompasses children as well as the adult population.
Her current role is Continuing Care Manager for Children and Young People within ABMU Health Board. Nicola has undertaken several secondments throughout her nursing career , that include , specialist , educational and managerial roles to broaden her experience, expertise and to overall improve the care she provides to the children, young people and their families she cares for. She is currently Chair of the All Wales Children's Community Nursing Forum and a member of the RCN steering committee for CYP Community and Continuing Care Forum.
Patricia McNeilly
Patricia trained initially as a general nurse before undertaking the RSCN course at the Royal Belfast Hospital for Sick Children in 1987. After qualifying Patricia worked in the paediatric unit of a district general hospital for ten years during which she undertook a BSc in applied psychology. From 2001-2003 she worked in the community setting with children requiring palliative care and their families, completing her CCN course at this time. Since 2003 she has been a lecturer in children's nursing at Queen's University Belfast. In 2014 Patricia completed her PhD research exploring the participation of disabled children, young people and their parents in health and social care decisions. Patricia has published numerous articles relating to disability and palliative care for children. Patricia is co-editor of the book Palliative care for children and families: an interdisciplinary approach.
Rebecca Connolly
Clinical Director for Carebridge Staffing, Complex Homecare Provider
Following a period of time working in Accident and Emergency at Sheffield Children's Hospital I relocated to London. I have worked as a Registered Children's Nurse within the community setting since 2013 supporting children and young people with significant and complex health needs to live in their own home. I am passionate about personalising their care based around what matters to them.
In 2020, Carebridge became the first recognised homecare provider by the NMC to support Nursing Apprenticeships. I took on the role of Practice Assessor to raise awareness of Children's Community Nursing whilst continuing to support the future nursing workforce.
I feel grateful to have chosen a career with life-long learning opportunities and keep continuing professional development at the forefront of my nursing practice. I look forward to championing continuing and community care with the RCN.
Ruth Richardson
Registered Nurse, Registered Sick Children's Nurse, BSc Specialist Practitioner, Community Children's Nursing
Ruth has worked in children's nursing in a variety of roles since obtaining her post registration qualification in sick children's nursing in 1987. She moved to Wales in 1994 and after a short period in the University of Wales hospital joined the Aneurin Bevan University Health Board CCN team in 1997 where she was one of the first cohorts of staff employed to provide respite for children with complex needs. She later spent time as a CCN Team Manager and then spent 10yrs as lead nurse for children's continuing care.

Ruth currently works as Assistant Head of Children's Nursing and Continuing Care in Powys Teaching Health Board overseeing Community Children's Nursing, Children's Continuing Care, Children's Learning Disability and the Neurodevelopmental Service.

Ruth co-chairs the All Wales CYP Continuing Care Forum; currently working at a national level to review the Wales Government CYP Continuing Care guidance. She has been strongly involved in writing and initiating multi-agency training for Continuing Care across Wales. She is also a member of the All Wales CYP Senior Nurse Forum which seeks to raise the profile of children's nursing in wales and aims to shape services in line with current government strategy.
Page last updated - 20/07/2021