Nigel Dodds
RCN Pain & Palliative Forum Chair
Consultant Nurse for the community nursing team, St Christopher's Hospice, London.
Nigel started his nurse training in Newcastle upon Tyne in 1988. Since qualifying in 1991, he has worked in the fields of infectious diseases, drug rehabilitation, HIV/AIDS, oncology, and palliative care. Nigel has palliative care experience gained in community, hospice and acute care settings in the UK, and in sub-Saharan Africa. Nigel has post-registration qualifications in public health nursing (Health Visitor), as a nurse teacher, and advanced practice qualifications in advanced assessment, and independent prescribing. With a BSc(Hons) in Palliative Nursing, a MSc in Medical Anthropology, and a second MSc in Healthcare Research (Palliative Care).
Nigel currently works at St Christopher's Hospice in London, where he is a Consultant Nurse for the community nursing team, working in the London boroughs of Lambeth, Southwark and Lewisham.
Nigel became a Pain and Palliative Care Forum representative in 2020, and is really looking forward to meeting other members of the forum to find out what they need to support their work and interests. Nigel believes the RCN has an important role to contribute to on-going development of pain and palliative care nursing, and can do this by working with its members.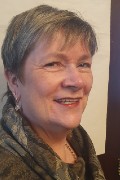 Sandra Campbell
Macmillan Consultant Nurse in Cancer & Palliative Care NHS Forth Valley (Since 2006)

Since qualifying in 1981, Sandra has gained experience in a variety of care settings and developed a passion for cancer and palliative care with a particular interest in the value of good communication. Her current strategic role allows me to fulfil a vision of really making a difference to patient care - by working with many teams providing leadership on initiatives in cancer and palliative care at local and national level. Privileged to be the UK Clinical Lead for End of Life Care on an RCN project in 2014-15, she also performed the role of National Clinical Lead for Palliative and End of Life Care in Scotland for two years, one day per week between April 2017 and April 2019.

Sandra also studied at Doctorate level for five years and has been a UK Oncology Nursing Society (UKONS) Board member since 2014. She sits on the Board of the Scottish Partnership for Palliative Care (SPPC) and the Committee of the RCN Pain and Palliative Care Forum. One of her proudest achievements included the development of the Macmillan One to One Service in Forth Valley and the introduction of Holistic Needs Assessment. Sandra believes strongly that kindness and compassion are at the heart of the human connection.

Regarding supporting people in their own homes for as long as possible, Sandra thinks it is essential to establish confidence in the provision of good personal care by a team who have built an excellent relationship combined with the "safety blanket" approach of knowing who to contact if there is a problem or even a question causing concern. Identification of need and care coordination are critical in service delivery of end of life care regardless of place of care and death.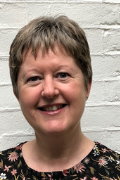 Karin Cannons
Nurse Consultant, Frimley Health NHS Foundation Trust.
A member of the RCN since a student nurse, Karin qualified as a nurse in 1987 from Bart' Hospital. Since then she has worked in a variety of clinical areas including critical care. As the Nurse Consultant for Pain Management in a large NHS district general hospital foundation Trust, she works clinically with inpatients and outpatients. Karin is the service lead for the Inpatient/Acute and Outpatient/Chronic pain services that are provided to the 3 hospitals in her Trust.
Passionate about patient comfort, staff support and education Karin co-authored the RCN's Pain Knowledge and Skills Framework for the Nursing Team in 2015. A long-term member of the British Pain Society, Karin is a committee member of the Head Pain Special Interest Group (SIG) and an active member of the Acute Pain, Philosophy and Ethics, Education and Developing Countries SIGs. Karin's research interests include non-medical prescribing and opioid reduction in patients with long-term use.
Email Karin
Martin Galligan
Lecturer Practitioner Royal Marsden School

Martin completed his nurse training and early years as a qualified nurse in Edinburgh were he worked within main theatre recovery, it was here that he developed his interest in the management of acute and complex pain. From this role he moved to London and developed into a clinical nurse specialist role in complex cancer pain at the Royal Marsden Hospital. From here he then moved onto the role of lead nurse for pain services at a busy district general hospital caring for patients with acute and chronic pain.

He has now moved into the academic setting and working as a lecturer practitioner at The Royal Marsden School with a focus on advanced practice and symptom management.

He continues to work clinically within the pain management team at the Royal Marsden and is involved in pain management on a local and national level, he is the current vice chair of the London Pain Interest Group and committee member of the British Pain Society Pain Education Special Interest Group and Association of Advanced Practice Educators.

Martin has a special interest in pain education and in particular the knowledge and attitudes of health care professionals during the assessment and management of pain in all settings.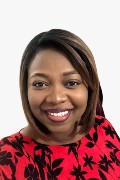 Olajumoke Isaiah
Olajumoke is currently a specialist nurse in palliative care in Bart Health NHS trust, which serves the East London population, one of England's most ethnically diverse communities. She completed her training as a nurse in Nigeria, West Africa, in 2005. As a nurse with over a decade of experience within the NHS in different specialities such as surgery, oncology and palliative care. Olajumoke is passionate about patient care and satisfaction being at the centre of service improvement.
Olajumoke's interests are health inequalities, patient satisfaction, and the mental wellbeing of specialist nurses in palliative care. She is passionate about the education and empowerment of nurses to be advocates for patients through knowledge, mentoring and experiential learning.
Suzanne Monks
Senior Lecturer, Sheffield Hallam University

Suzanne is lead lecturer for palliative and end of life care within the Nursing and Midwifery department of Sheffield Hallam University. She started her career in cardiology where she developed her interest and passion to care for those at end of life, with her most recent clinical role being an end of life care facilitator. Suzanne formed and continues to chair a Yorkshire and Humber end of life care facilitators' forum which disseminates local and national educational, research, strategic and service developments in relation to the end of life care.
Suzanne has been a member of the RCN since the start of her nurse training in 1999. She has been part of the pain and palliative care forum for a number of years and wanted to be part of the steering group to learn from forum members and enable their voice and to be a part of the RCN's work towards palliative and end of life care services within the UK.
Dr. Amelia Swift
Amelia is an experienced nurse and lecturer working at the University of Birmingham School of Nursing and holding an honorary contract with the Queen Elizabeth Hospital Birmingham. Her interest in pain began when as a staff nurse in intensive care nursing she witnessed the challenges of balancing effective pain management with the need to support cardiovascular stability and respiratory weaning in patients who had undergone cardiac surgery. She then moved to working in chronic pain and developed an interest in the neurobiology and neurochemistry of pain culminating in undertaking a PhD exploring neurotransmission of osteoarthritis pain at the level of the dorsal horn.
A move to full-time education allowed Amelia to pursue her interest in helping others develop knowledge, skills, and confidence in pain management through education and research. She continues to write, research, teach and practice to improve pain management of all kinds.
Email Amelia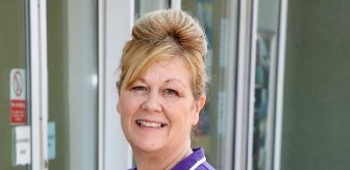 Contact
Professional Lead: Carolyn Doyle
RCN Professional Lead: Community and End of Life Care, nursing.
Page last updated - 18/06/2022