Jonathan Beebee
Forum Chair
CEO & Nurse Consultant, PBS4
Jonathan is a Registered Learning Disability Nurse with MSc in Positive Approaches to Challenging Behaviour. He is passionate about the needs of people who have behaviours described as challenging and Positive Behaviour Support. He is also interested in the needs of people with learning disabilities accessing mainstream services, such as hospitals.
His aim for PBS4 is to provide community solutions for people with learning disabilities and challenging behaviours. Prior to this he was a Learning Disability Policy Manager for CQC, Chief Operations Officer for a social care provider, and he has managed NHS learning disability services for people with challenging behaviour, and undertook project development work for the Department of Health on the needs of people with learning disabilities who are in contact with the Criminal Justice System.
He has worked in a variety of settings including: Community Learning Disability Teams, Intensive Support Teams, Secure Forensic CAMHS, Youth Offending Teams, CAMHS Community Teams, and Secure Mental Health settings, and is also a Trustee for the Loddon Foundation and Autism Wessex. Both these organisations provide specialist schooling for children with autism, and Loddon also provide a physical intervention package.
Jonathan enjoys writing about learning disability nursing and has published several articles in Learning Disability Practice and Nursing Standard and has had a chapter published in a book on Nurse Leadership. He regularly blogs about Positive Behaviour Support.
David Williams
Head of Service, Salford Learning Disability and Complex needs Service
Dave Williams has been in his current role since 2009. He completed his Learning Disability Nurse training in 2001, and also holds a Diploma in social work; since qualifying he has worked in community teams and supported living services.
Since 2013 Dave has chaired the influential North Learning Disability Nurses network, and has also since 2008 chaired the North West Positive Behavioural Support (PBS) network. In January 2015 Dave was appointed to the RCN Learning Disability Nursing Forum steering committee; he has previously sat on the Winterbourne Assurance Board and was a member of the Bubb report steering group.
Since 2014 Dave has been a invited member of the National Challenging Behaviour Strategy Group (NCBSG) steering committee.
Dave is currently the lead for workforce development for the Greater Manchester Transforming Care Partnership.
In 2019 Dave was appointed as Head of Service for Learning disability and complex needs at Salford Royal foundation Trust.

Giselle Cope
Practice Development Facilitator, Foundation of Nursing Studies (FoNS)
Since Giselle qualified as a registered nurse in learning disabilities in 2000, her career portfolio has included working in various leadership positions within the NHS and Independent sector. Giselle currently works with individuals and teams within various programmes and bespoke mentorship offered by FoNS across health and social care. She also leads on learning disability nursing.
Giselle is programme director of FoNS' newest programme; The Creating Caring Cultures Fellowship for early career Learning Disability Nurses in England. She feels privileged to be able to empower, enable, and inspire others to put into practice improvements and innovations which can totally transform patient care and experience.
Glenn Batey
Senior Lecturer in Learning Disability Nursing, University of Sunderland
Glenn has been a learning disability nurse for ten years. Since qualifying he has worked in forensic health care, primarily in community services and developing pathways to prevent admission to the criminal justice system and secure services.
In 2013, Glenn was acknowledged for his contribution to the field of learning disability nursing by been awarded the Nursing Times award for developing a psycho educational intervention to promote safe use of the internet amongst people with learning disabilities.
Within his current role, Glenn has a number of research interests including exploring the diagnostic experiences of adults with autism and post-diagnosis support provision.
Katie Edwards 
Neurodevelopmental Practitioner
Katie has worked with people with learning disabilities for 17 years. The first six years of her career was in the independent sector providing supported living for adults with a learning disability in the community. She became a Registered Learning Disabilities Nurse in 2009 and spent the first 10 years of her career working with people with learning disabilities and/or autism in secure services. Whilst in this setting, Katie had numerous roles including Ward Manager and Practice Development. She worked hard to affect change for the learning disability and/or autism population, ensuring they had fair access to health care, treatment, education and employment opportunities.
For the past two years, Katie has worked carrying out autism diagnostic assessments for children and adults. She gained a Masters in Autism Studies at Sheffield Hallam University in 2020 and her research focused on the experiences of Registered Nurses providing care and treatment to autistic patients in secure services. She carries out Care and Treatment Reviews as a Clinical Expert for her local CCG, a role she feels really privileged to do.
Katie is passionate about people with learning disabilities and/or autism receiving fair care and treatment and that people working in this field are given the training and support to do their job well.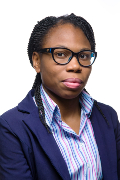 Tolu Olaniyan
Tolu is a registered Learning Disability Nurse with a special interest in epilepsy. She has an undergraduate degree in Learning Disability Nursing from the University of Southampton (2012) and a Master's degree in Epilepsy from King's College London (2015). She has worked in both inpatient and community services. Her first job when she qualified was as a Rotational Nurse in The Children's Trust Tadworth, Surrey. She then moved back to Southampton as a Community Nurse in West Hampshire. In 2016 she became a senior Community Learning Disabilities Nurse on the Isle of Wight before taking on a secondment role as the Interim Team Leader of the Community LD Service on the island. She is currently employed as a Senior LeDer Reviewer carrying out reviews nationally.
Tolu successfully completed the Florence Nightingale Nurses and Midwives Leadership programme (South East) and is now a Florence Nightingale Scholar. One of the many hats she wears include the role of a Practice Tutor with Open University. She enjoys passing on knowledge and supporting Associate Nursing students and student nurses through their journey to become registered ANPs and nurses.
Tolu is passionate and driven about using her expertise to support the development of LD and epilepsy services both nationally and internationally. She is the current Chair of Medical Assistance Sierra Leone (MASL) and the founder of an International training organisation; Pretola Global Health and Consulting Ltd. She is involved in international research in several countries and enjoys collaborating with others.
Whilst not working, Tolu enjoys spending quality time with her husband and two young children, going to church, singing, reading and travelling to new countries.
Page last updated - 09/03/2021