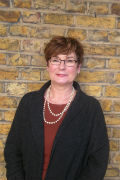 Sally Bassett
Forum Chair
Sally trained initially as a pupil nurse in Oxford and went on to become a Registered Nurse which set her on a course committed to continuous learning and professional development. Sally completed her Intensive Care training and specialised in general medicine; sally went on to hold positions at Government and national level in the Department of Health in England as a Nurse Advisor, as the Regional Deputy Chief Nurse and as a Primary Care Trust Director of Nursing and Therapies and as the Independent Nurse on a Clinical Commissioning Group. Sally held senior lecturer positions in the Education and Health faculties of Oxford Brookes. She is a qualified Coach and an Honorary Fellow at Sheffield Hallam University. Sally worked in PwC Professional Advisory Services for over seven years providing clinical and professional advice to high profile and complex events in the UK and overseas; Sally has led regulatory clinical investigation, board leadership assessment and development and productivity improvement projects giving her unique commercial, consulting, investigating and cultural change insights.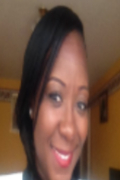 Linda Buabeng
Linda qualified as a paediatric nurse in 2008 obtaining her Child Health Nursing degree from Kings College London. After a few years working across various children's settings including high dependency & Accident and Emergency, Linda sought a new nursing challenge outside the UK and was appointed into a senior clinical position in Saudi Arabia. This role saw Linda collaborating with other senior leaders for the implementation of the paediatric early warning score which then led to this particular organisation obtaining a gold standard quality accreditation.
Having gained a vast amount of experience in the public, private & International healthcare sector, Linda returned to the UK and successfully completed a Masters in Strategic Management and Leadership in healthcare and focused her dissertation on the role of collective leadership & organisational culture on openness and transparency within healthcare organisations. This led Linda to develop a strong interest in Board level leadership and quality and governance functions. Linda has held various roles including Lead Nurse for Outpatients, Diagnostics & Primary Care whereby she was the Governance lead for the directorate and as well as leading and managing a large workforce.
One of Linda's passions is diversity and inclusion within the workplace and supporting and developing black Nurses in to senior positions. This has led Linda to be involved in a number of initiatives including reverse mentoring, diversity & inclusion strategy development and career mentoring.
Currently, Linda is the Regulatory Lead and Chair of the Black Minority Ethnic Employee Resource Group at Cleveland Clinic London.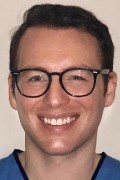 Craig Davidson
Craig is a registered nurse who recently took up a post as a community public health staff nurse in the Asylum Health Bridging Team for Glasgow City Health and Social Care Partnership. His first staff nurse post was in the Infectious (Communicable) Diseases department at the Queen Elizabeth University Hospital in NHS Greater Glasgow and Clyde in May 2020.

He graduated with a first-class BSc (Hons) Nursing Studies degree from Glasgow Caledonian University (GCU) in August 2020. And was the recipient of the Ross Hall Prize for academic excellence and achievement upon graduation. Craig's undergraduate nursing dissertation focused on "the lived experiences of prostate cancer for men who have sex with men?".

Craig is a former Scottish representative on the Royal College of Nursing's (RCN) Students' Committee from 2018- 2019, assuming the chair's tenure in 2019. Currently, he also is an RCN Newly Registered Nurses curator.

He is a member of Sigma Theta Tau International Nursing Honour Society's first Scotland Chapter, Omega Xi. Craig is honoured to be a part of Sigma Nursing's second cohort of the Nightingale Challenge for novice nurse leaders.

Together with his friend and fellow registered nurse, Clare Manley, Craig hosts a fortnightly podcast, "Retaining the Passion: Journeys Through Nursing". They discuss and hope to shine a light on critical issues affecting the nursing profession and society more broadly by speaking to various guests about their stories and lived experiences. They then reflect on these discussions and how both they and other nurses can improve their nursing practice. Subsequently, the Health and Leadership Academy invited both to join their 2020 Conference to present a poster on their podcast's work, alongside other global healthcare leaders. They were awarded a prize for their work of "Leading in Difficult Times". Additionally, the Nursing Standard included them in a list of "Podcasts for nurses: five of the best to keep you learning while you listen".

Currently, Craig is undertaking a Master of Public Health at GCU. He is interested in global, public, and sexual health, particularly blood-borne viruses and health protection measures. He hopes to work on global and public health policy as a nurse researcher and academic one day. Craig is passionate about representing minority populations and advocating for health equity for all. To this extent, he sits on the working group developing NHS Scotland's Rainbow badge inclusion initiative.

As a student nurse, Craig was an editor for the Student Nursing Times. He was also a member of the Scottish Government's Country Specific Working Group for the Year of the Nurse and Midwife 2020. In 2018, @WeNurses included Craig in their list of #100OutstandingNurses, one of only three student nurses included. Additionally, the National Student Nurse Congress Award's 2019 shortlisted Craig as a future nursing leader. He was also honoured to be the Student Nursing Times Student Nurse of the Year (Adult) Award recipient in 2019.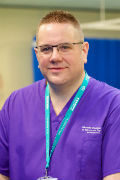 Paul Jebb
Paul qualified as a nurse in 1996 and worked in numerous posts within nursing, as well as a period in operational management, and a national role within NHS England. In December 2016 Paul returned to an NHS Trust and is now Associate Director of Nursing at University Hospitals of Morecambe Bay NHS FT where he is also the mental health lead for the Trust.

Paul has been involved and led on numerous quality improvement initiatives throughout his career, and has gained several awards and accolades.

Paul is also a member of an NMC Professional Standards advisory panel, and also part of the strategic group to refresh the NMC Education Standards.

Paul has represented the Royal College of Nursing at local, regional, national and international levels, is a member of RCNi Editorial Advisory Board.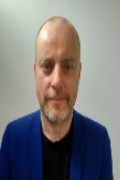 Keith McCoy 
Keith has worked in a variety of management, nursing and corporate roles over the years; operations director, deputy chief nurse, hospital director and head of healthcare professions for the organisation's Camden and Islington FT, UCLP and Elysium Healthcare. He currently enjoys working for Elysium Healthcare as their director of culture and wellbeing. He has just completed 5 years in the independent sector and lives in Manchester, but prior to this he gained 23 years of London NHS experience.
Keith is a mental health nurse with a master's degree in mental health from City University London and an MBA from Durham. His professional interests are in leadership, change, culture and mental health. Outside of work, he loves sport and film, but has succumbed to the injuries of time and now accepts he won't play rugby for Ireland or football for Manchester United, however he has developed the ability to sit on the sofa for hours on end and binge watch box sets. His first novel, a mental health dark comedy was published in 2020 and he thinks he might have a second offering out in the summer of 2021. Keith feels very privileged to be a nurse, to have the opportunity to help improve people's lives, whether they are staff members, service users or indeed anyone.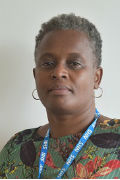 Angela Sealy
Angela is an interim Designated Professional for Safeguarding Adults with strategic, professional lead on all aspects of the health service contribution to adult safeguarding at NHS Haringey Clinical Commissioning Group. She is also responsible for quality assurance in care homes across Haringey. Angela train as a registered nurse at North Middlesex Hospital and went on to complete her district nurse training in Tower Hamlets in London. She has work in a variety of senior community nursing roles with a focus on a coordinated approach to developing clinical practice across health and social care settings. Angela has led a number of community nursing workforce initiatives and was seconded to NHS Health Education England CapitalNurse programme to develop a leadership programme for nurses working in social care in North Central London. Angela has co- authored a number of publications and presented at educational and workforce development national and international conferences.
Liam Williams
Liam registered having completed his training at Stoke Mandeville Hospital in 1998. He started in respiratory medicine before moving into High Dependency Care and has consistently returned to his routes of emergency and respiratory care throughout his career. Liam is Director of Quality and System Performance in NHS South, Central and West his portfolio includes clinical support services, safeguarding, Caldicott Guardian and a range of services that support Integrated Care System integration. He is also the Transformation Director for Cancer and Mental Health.
Liam was previously Chief Nursing Officer at North Somerset CCG and Director of Nursing for Great Western Ambulance Service. Liam has worked across the commissioning environment of the NHS leading on service developments and transformation programmes – primarily out of hospital but all of which were designed to achieve integrated care pathway outcomes.
Liam has actively participated in the RCN through various roles throughout his career in local, national and international roles.
Page last updated - 19/04/2021