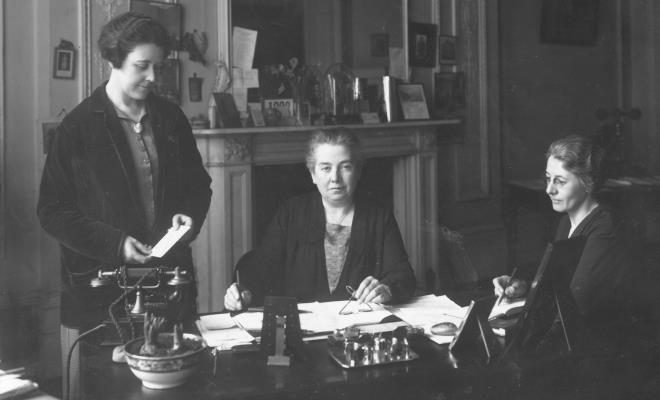 Gertrude Cowlin (centre) in her office with colleagues at the College of Nursing
Members of the Library and Archive Team have been scouring our ever-expanding digital archive to pick out highlights from our collection recently. Here Phil Segall looks into the library's own history:
On 3 July 1945, the then Princess Elizabeth - now Her Majesty The Queen - officially opened what is now the Library and Heritage Centre at 20 Cavendish Square. A delve into our digital archive shows the library had a presence at the RCN well before this.
Our very first librarian was Gertrude Cowlin, a nurse herself and one of the first people to join the College of Nursing (now RCN) in 1916. In her time as Organising Secretary for the College, Cowlin campaigned vociferously for nurse registration as detailed in our recent "Wake up Slackers!" exhibition. She was also responsible for setting up many of the RCN's branches around the UK.
Cowlin temporarily left the RCN in 1920 to take up a role as Assistant Director of the Nursing Division of the League of Red Cross Societies in Geneva. When she returned from this 'gap year', of sorts, she helped oversee the transition of the College of Nursing's Employment Bureau to become the Information Bureau. This included setting up the library which opened on Henrietta Street - now Henrietta Place - in 1922. This was still four years prior to the RCN's headquarters being established at 20 Cavendish Square and was founded in part thanks to a generous grant from the Carnegie UK Trust. Cowlin harboured grand ambitions for the library which the 1922 College of Nursing Annual Report states was set to become a "boon to the profession at large". She was not trained as a librarian herself but worked on a library committee with prominent librarians working in London at the time. These included Dr Hagberg Wright, Librarian at The London Library, and Henry Richard Tedder - Librarian at the Athenaeum Club, Pall Mall.
Cowlin continued to work at the College until 1936 and took on a number of other roles during this time, including Editor of the Nursing Times. She was named as Deputy Secretary in the Royal Charter too and set up the Private Nurses Committee. Her legacy lived on as the Cowlin travel scholarship was set up in her name. In her obituary in the 1957 RCN Annual report, Cowlin is described as "one of the great leaders of the nursing profession".
You'll find more about the RCN's history in our digital archives which are available online for everyone to explore.