Sexual health career stories and case studies
 Sexual Health (SH) encompasses; genito-urinary medicine, sexually transmitted infections (STIs), HIV, contraception, abortion services, teenage pregnancy and sexual & reproductive health.
It is delivered in various settings, providing care across specialised services as well as through primary and third sector organisations. The following selection of career stories, from nurses working across the UK and in a variety of organisations, demonstrate the various routes that senior nurses have taken to develop into the speciality. These are followed by case studies which help to show the breadth of services providing sexual health care.
Sex, Specialty and Service - Working in sexual health services
Sexual and reproductive health nursing staff talk about why they chose to work in sexual health and how their role and studying has developed their skills and experience. Also, hear about what their role encompasses and what they enjoy about the area they work in.
Would you like to submit a case study?
If you would like to submit a case study, please complete this template or if you would like to show your career story please use this template and email it to helen.donovan@rcn.org.uk. To fill out the template, you will need Adobe Acrobat Reader, which you can download here.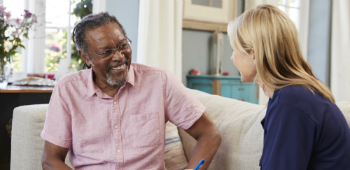 This resource highlights the education, training and qualification requirements for registered nurses, midwives, health advisers and nursing associates as well as unregistered health care support staff working in sexual health.
What: A sexual health service for the population of Barnsley, Wakefield and Wigan
Who: Belinda Loftus – Head of Integrated Sexual Health Services – Spectrum Community Health (CIC)
Background: Belinda commenced nurse training with Queen Alexandra's Royal Army Nursing Corps in 1996 after she had completed my army basic training. Her nurse training was based at Royal Naval Hospital Haslar, specializing in sexual health at the main naval base in Portsmouth.
After qualifying she was posted to Catterick and worked in the Military Defence Hospital Unit (MDHU) Northallerton, in general surgery, urology and orthopaedic trauma. It was here where she spent time in the Army Genito-urinary service, before heading off to MDHU Frimley Park in Surrey for further training Following completion of this she was posted to Germany for two years and then Northern Ireland for another two years. During my ten years in the Army she did 4 operational tours; Kosovo, Bosnia, Iraq and Northern Ireland, after Northern Ireland she left Army.
Her first NHS job was as a Nurse Practitioner in Rotherham, spent three years in Rotherham before taking the position of Trinity Centre Manager (at the time Bradford's GUM service). She was then appointed to her current position as Clinical Service Manager for Bradford's Integrated Sexual Health services. She then moved on to Spectrum Health Community Interest Company and remains committed to sexual health services.
Spectrum Health CIC focuses their healthcare delivery on 3 specific areas; sexual health, substance misuse services, Health and Justice services. They have services across the North of England.
Approach: Prevention, Resilience, Promotion and Protection
Location: Wakefield, West Yorkshire
Specialty: Sexual health, including management of sexually transmitted infections (STIs) and related conditions, contraception, relationships and sex education to young people.
What initiative or project are you involved in?
All sexual health services aim to provide open and accessible sexual health services that meet the needs of the local population, working closely with the local authorities who commission sexual health services.
The medical teams are led by consultants; specialists in genitourinary medicine (GUM) and contraception, the medical staff also acts as the Clinical Lead. Nursing staff work at bands six and seven and are all independent practitioners. The health advisors are all trained nurses with the skills to deal with partner notification, adjustment to diagnosis, HIV testing of high-risk groups, and complex cases of safeguarding.
Our highly trained staff aim to ensure that patients only have to tell their often embarrassing or distressing story once.
We care for patients with a range of sexual health needs, including:
concerns about acquiring an infection through recent behaviour
sexually transmitted infections (STIs) that have significant public health implications, for example HIV, syphilis, chlamydia and gonorrhoea
other infections such as herpes, warts and trichomonas
non-infectious conditions, for example vaginal and vulval candidiasis, bacterial vagninosis (BV) and genital skin conditions.
Our services include:
contraceptive methods
pregnancy testing
HIV point-of-care testing
motivational interviewing
harm reduction strategies.
We play a key role in safeguarding children, young people and adults, which includes dealing with issues such as child sexual exploitation (CSE), female genital mutilation (FGM) and domestic/intimate partner violence. We also have a strong belief that relationships, and sex education play a key role in ensuring that young people are resilient, able to negotiate safe relationships and develop in to adults who are able to have sexually healthy relationships.
The workload for safeguarding continues to increase; the teams work co-operatively with other service providers to ensure that issues are dealt with swiftly and appropriately.
What prompted the work?
Embarrassment and stigma are major barriers to the use of sexual health services. It is hoped that the merging of contraception and genitourinary medicine (GUM) services will help to tackle this stigma and reduce barriers to treatment seeking. For example, patients attending a contraception appointment, once in a private setting, may feel comfortable enough to disclose other sexual health needs.
How did you initiate the work?
Under the 2012 Health and Social Care Act, responsibility for the commissioning of sexual health services transitioned from NHS Primary Care Trusts to designated receiver organisations.
The merger of contraceptive and GUM nursing has introduced a disparity in competencies. In order to provide an integrated service, significant training has been required to ensure that all clinical staff have the skills to deliver both services. The nursing team use the British Association of Sexual Health and HIV (BASHH) Intermediate Competency Framework, and the Faculty of Sexual and Reproductive Health (FSRH) Competency Package for contraception, which enables knowledge and clinical skills to be gained whilst remaining in practice. This was presented in a poster at the BASHH Spring Meeting 2016.
GPs have a key role to play in enabling good access to sexual health services for the whole community, including pregnancy testing, cervical smear testing, STI screening and referral to specialist sexual health services.

What difference has the project or initiative made?
Patients have new facilities in the centre of towns, located near to travel links, instead of them being located in hospitals or dilapidated buildings. Access has improved to contraception as we have moved away from the traditional sessional approach to the more modern open access with long opening hours.
The challenge posted by HIV is ever-changing, with an ageing HIV positive population, the long-term effects of antiretroviral therapy (ART) and rising rates of HIV and sexually transmitted infection. In 2014 there was an estimated 103,700 people living with HIV in the UK, with 613 deaths (PHE, 2015).
The role of the community based HIV clinical nurse specialist (Community HIV CNS) has a long and varied history. Initially, the role was commissioned to provide specialist management for those living with HIV/AIDS who wanted to live (and die) at home and be supported with the co-ordination of services, plus the requisite palliative care for those who wished to remain in their own homes.
As HIV evolved, the role developed in response, providing specialist advice and expertise around HIV care, side-effect management and adherence to (at the time) complicated ART. The current emphasis of the Community HIV CNS role is one of complex case management, which has been described as "the process of planning, coordinating and reviewing the care of an individual" and supporting HIV self-care and management. Whilst these roles vary across the UK, the overarching remit for most Community HIV CNS is the management of a cohort of patients to prevent avoidable hospital (re)admissions and speed up discharge from wards.
Chelsea & Westminster NHS Foundation Trust Clinical Nurse Specialist (HIV Community) Shaun Watson argues that CNS roles such as his are often viewed as a luxury. By undertaking an economic assessment, Shaun demonstrates that his role not only adds value but avoids considerable costs. By supporting adherence to ART therapy alone, Shaun estimates that with a caseload of 60 - 70 patients, his intervention avoids between £162,500 and £260,000 of ART waste. Consequently the avoidance of the onward transmission of HIV saves between £3,360,000 -£4,320,000 per annum. Furthermore, by presenting three case studies, Shaun illustrates how his role avoids significant costs elsewhere in the system, such as ambulance services, A&E departments, hospital beds days, GP appointments and mental health services.
You can contact Shaun by email shaun.watson@nhs.net.
Name: Angela Cannon
Job title: Lead Nurse, Sexual Health Outreach Services
Organisation: Spectrum Community Healthcare CIC, based at Wakefield Integrated Sexual Health service
What is your current role?
Lead nurse at an integrated sexual health service and lead for the outreach aspect of the service.
What was your route to this role?
I started Registered General Nurse training at Pontefract school of nursing in 1983 and qualified in 1986. I worked as a staff nurse on the surgical unit at Pontefract General Infirmary until 1988 and then started midwifery training. I qualified as a RM in 1989 and worked as a staff midwife in all areas of the Pontefract Maternity Unit for 5 years then was promoted to Team Midwife working in the maternity unit and the community.
In 2002 I left midwifery to do the BSc (Hons) Community Health Care Nursing-Health Visiting at Leeds and worked as a Health Visitor for 4 years. During this time I did the Contraception and Sexual Health certificate at Huddersfield University. In 2007 I started work as an Outreach Nurse within the Contraception and Sexual Health service (CaSH) at Wakefield. The CaSH service and the GU services in Wakefield integrated in 2015, becoming Wakefield Integrated Sexual Health service (WISH). Since then I have become the Lead Nurse for WISH and the outreach service.
What prompted you to do this role?
While working as a midwife the teenage pregnancy rates were escalating across the district and nationally, this prompted my interest in public health/health promotion and the prevention of ill health. Doing the health visiting qualification opened doors to carrying out public health work, visiting schools to teach young people about preventing pregnancy/STI's. This line of work lead me into the outreach nurse role within CaSH working primarily with young people and vulnerable groups. Since the service integration my role developed; I continue to provide care for the young people/vulnerable adults referred to the WISH outreach but I am also in the advantageous position of being able to provide level 3 sexual health care for clients accessing the service.
What education/courses/modules have you undertaken to equip you for the role?
Besides the qualifications listed above I have also done the STIFF competencies course (BASHH), cervical cytology, NMP qualification, Letter of Competence for the fitting/removal of the sub dermal contraceptive implant, safeguarding supervisor's course (NSPCC), Teaching and Assessing in Clinical Practice (the "old" ENB 998)
How do you see yourself developing your skills?
I have recently completed all training requirements for the Letter of Competence in intra uterine techniques and in the process of submitted the paperwork to the FSRH. This allows me the opportunity to fit intra uterine devices for women accessing the WISH service. This year I also plan to develop microscopy skills.
What is your long-term career plan?
I have never had a plan and I wouldn't want to start now.
What advice would you give someone thinking about moving to work in sexual health?
Have an open mind, be non judgmental, don't expect an easy ride- the pace is fast and can be emotionally tiring, have a good sense of humor and have a passion for learning.
What do you most enjoy about this area of care?
Every day is different, I have never worked in an area where there is such diversity. I work with a good, supportive team. The work is interesting and the learning never stops.
Name: Bryony Grimshaw
Job title: Sexual Health Nurse, Band 5
Organisation: Western Sussex Hospitals NHS Trust
What is your current role?
I work as a Sexual Health Nurse within a busy integrated clinic in Worthing that provides both Sexual Health services & contraception services. I have been there since August 2017.
Initially my job was based purely around Sexual Health & my main duties include:
Taking histories for asymptomatic & symptomatic patients
Examining both male & female patients
Collecting samples for a range of different sexually transmitted infections
Diagnosing some conditions with the use of microscopy
Health promotion & having discussions with patients about safe sex
Assessing patients who have been the victim of sexual assault (acute, recent & historic)
Assessing patients who need PEPSE after high-risk exposures
Rapid HIV testing
Giving positive results & treatments in the absence of the Health Advisor

Identifying patients in need of vaccinations such as Hepatitis A, Hepatitis B & HPV

Assessing safeguarding risk & making appropriate referrals if necessary
I have recently received my FSRH Nurse Diploma which means I can now provide contraceptive services for patients as well. This involves:
Taking a thorough history for a patient & talking to them to try & understand what their contraceptive priorities are & helping to find a method that suits them

Explaining how each of the contraceptive methods work & describing their advantages & disadvantages

Counselling a patient on how to use a method effectively (including barriers, pills, patches, rings, natural family planning)

Referring patients for Long Acting Reversible Contraception (LARC)

Undertaking pregnancy testing then giving either early pregnancy advice or signposting to BPAS

Giving emergency contraception

What prompted you to do this role?
I felt that Sexual Health nursing would enable me to use some of the transferable skills I had learnt in emergency care such as assessment skills, good time-management, breaking bad news & managing difficult/sensitive scenarios & knowing when to escalate if I'm worried about a patient.
Sexual Health Nursing is similar to working in ITU/HDU in that it is very nurse led. There are many opportunities for nurses in Sexual Health including training in inserting subdermal implants/coils & being able to diagnose then prescribe medications for common conditions under a PGD.
What was your route to this role?
I started my nursing career in Acute Medicine/Emergency Care. I then went on to go and work in ITU/HDU at a major trauma centre in Brighton. I absolutely loved the fast paced, dynamic side of nursing & providing care for really sick patients. It was my intention to do this forever then I unfortunately had a nursing-related injury to my back that required surgery & became unable to do manual handling anymore.
What education/courses/modules have you undertaken to equip you for the role?
I have attended the STIF Course & will be able to achieve STIF competencies in the future. I have undertaken the FSRH Nurse Diploma to enable me to provide contraceptive services for my patients.
How do you see yourself developing your skills?
I will continue to see a varied range of patients to gain more experience. I also like to work in different clinics to have access to a different demographic of patients. I like to pick the brains of my colleagues to try & expand my knowledge & learn different ways of doing things. I keep myself up to date by reading journals & relevant news articles & any new guidelines that are published by BASHH or FSRH.
What is your long-term career plan?
I intend to stay within Sexual Health & Contraception for a long time. I would love to develop my leadership skills further & take on the role of a Band 6 nurse within in the speciality. In the future I would love to do my non-medical prescribing course.
What advice would you give someone thinking about moving to work in sexual health?
To do this job you need to be completely non-judgemental. You need to be friendly & approachable & compassionate. When you a see a patient in a Sexual Health Clinic you need to be able to build up a good rapport in a short space of time otherwise they will not feel comfortable to tell you sensitive information that may be crucial to providing them with the best care.
It helps if you are interested in health promotion as a lot of our work involves giving advice & coaching patients about safe sex in order for them to try & keep themselves safe. A lot of it is also about risk reduction & thinking about how we can keep our most vulnerable patients the safest.
Great communication skills will help with both building good relationships with patients & also the health promotion side of things as well. You need to have good assessment skills & excellent time management skills as you are expected to manage your own workload in a dynamic & busy environment.
What do you most enjoy about this area of care?
I love that patients often come in feeling anxious or embarrassed or upset but that I (alongside my wonderful team) can usually make them feel better before they leave with either a diagnosis & treatment or some information. That feels like a very privileged position to be in as a health care professional.
I also love that even though the infections/contraception needs are the same it never feels repetitive because each patient is so different. It really gives you a good opportunity to give fantastic person-centred care.
There is always lots of research going on around Sexual Health & by being a Sexual Health Nurse I get to be part of trials that will shape the way care is provided such as the PrEP trial.
Name: Cath Crossman
Job title: Lead Practice Nurse
Organisation: Park Crescent Health Centre GP Practice
What is your current role?
Lead Nurse at GP surgery with special interest in contraception/sexual health & women's health
What prompted you to do this role?
I was a general practice nurse who undertook the CASH course. Afterwards I decided to set up a local commissioned service in our practice which offers sexual health and contraception drop in service for 13-24 year olds.
What was your route to this role?
I started my career as a midwife after qualifying as a RGN and then undertaking a 18 month conversion to RM. After 10 years I went into Practice Nursing for more family friendly hours and found my background lent me towards contraception/sexual health and women's health.
What education/courses/modules have you undertaken to equip you for the role?
I have undertaking the CASH course at Brighton University, I have obtained my eKA from the faculty of sexual and reproductive health. I have a letter of competence in intrauterine techniques and a letter of competence in subdermal contraceptive implant techniques. I have twice attended the STIF course. As a lone worker in the SRH field in my work place I keep myself updated by attending regular updates.
How do you see yourself developing your skills?
I am developing my skills further in women's health, undertaking menopauses training and general women's health training.
What is your long-term career plan?
To continue as I am.
What advice would you give someone thinking about moving to work in sexual health?
I don't specifically work in sexual health I work as a general practice nurse but I find this aspect of my role varied and interesting and I particularly enjoying engaging with this cohort of patients as my drop in is for 13-24 year olds.
What do you most enjoy about this area of care?
I particularly enjoy the practical aspects of fitting implants and IUTs. I also particular enjoy building the trust and engaging with the clients who can be very anxious coming into the service.
Name: David Evans
Job title: Professor in sexualities and genders: health and well-being
Organisation: University of Greenwich
What is your current role?
My current role is as a professor in sexualities and genders: health and well-being, in the teaching and learning pathway, at the University of Greenwich. I lead a number of sexual health courses, teach research methods and programme lead a "top up" MA in health care practice. I also supervise a number of doctoral students (PhD & EdD). My role also incorporates liaising with allied (sexual) health professions and their organisations, and active participation in the All Party Parliamentary Group on Sexual and Reproductive Health.
What was your route to this role?
Originally a nurse, then a Catholic priest, I moved in to HIV nursing in 1989. This led into HIV teaching, at a college of nursing, in 1990, and I have been teaching ever since! My work has included sexual health and HIV studies in hospitals, colleges of nursing, then in to universities. I also taught on these subject areas as a freelance consultant for 15 years, including working with social service departments and occasionally abroad. I also had a number of roles with the RCN, including co-authoring the RCN Sexual Health Strategy (2001), designing and managing the RCN Sexual Health Skills course (now on-line, owned by the University of Greenwich), and being RCN Professional Nursing Advisor, Sexual Health and HIV.
What prompted you to do this role?
I have worked as a senior lecturer in sexual health, at the University of Greenwich, for a number of years. Although I have undertaken research in HIV (MPhil) and sexual health (professional Doctorate in Education), I am primarily a teacher not researcher. The University of Greenwich opened up the career pathways, for teachers to achieve the professoriate, in 2018. I was fortunate to have been in that first cohort to achieve this role.
What education/courses/modules have you undertaken to equip you for the role?
So many across the years! From the former ENB934 (HIV), ENB276 part 1 (STIs) & ENB998 (now: mentorship); a Graduate Diploma in Psychological Counselling; PGCert in Applied Research Methods; PGCE / RNT / Qualified Teacher Status (Health Professions); Master of Philosophy (research: on social representations of HIV in post registration nurse education), and the professional doctorate in education (EdD) on sexual health education for nurses in England.
I was awarded a National Teaching Fellowship (NTF) in 2014 (highest achievement for excellence in university teaching) & became a Principal Fellow of the Higher Education Academy (PFHEA) in 2018 (certification for strategic leadership in education and learning. Her Majesty the Queen appointed me an OBE "for services to nursing and sexual health education" in 2017.
How do you see yourself developing your skills?
Exploring the ways I can raise the profile of sexualities and genders: health and well-being in more than classroom, on-line settings or thorough my publications. Maximising audience awareness of these areas of care and study, such as through a wide range of on-line resources, and hopefully through television and documentary media.
What is your long-term career plan?
To develop and maximise this new professorial teaching and learning role, by intentionally promoting wider participation of nurses and all allied health professions, for improving health and well-being, across sexualities and genders, through learning, research and educational media.
What advice would you give someone thinking about moving to work in sexual health?
Talk to as many of us in this line of work that you can, to explore the various career pathways and steps to achieving your goals!
What do you most enjoy about this area of care?
Knowing that if I can encourage every learner I encounter to improve their sexual and holistic health care practice, even just once because of something I said or did, then client / patient care will improve! Equally, if I inspire people to study, to enjoy learning, to overcome study difficulties and maybe even progress into an academic career, then I consider my job is well done, and my satisfaction complete!
My professional profile is here.
Personal website: en.gravatar.com/davidtevans
Active on Twitter as: @David_T_Evans
Name: Jodie Bridges
Job title: Clinical Nurse Specialist
Organisation: Spectrum Wakefield Integrated Sexual Health
What is your current role?
I am currently working as a clinical nurse specialist in an integrated sexual health clinic. I provide sexual health and contraception care to service users.
What prompted you to do this role?
I had applied for multiple Sexual Health posts, but had been unsuccessful due to not having any experience. This was the main reason i volunteered. I saw the job vacancy for my current role whilst i was on maternity leave and applied for the job as a training post.
What was your route to this role?
I have always been interested in Sexual Health and was interested in family planning whilst studying health studies at school. I was quite a confident girl, so I always chose to speak about a sexual health issue. I went on to study Nursing at The University of Sheffield and applied for my first post grad position in Gynaecology. Unfortunately, this was a very popular choice and I wasn't successful on securing the post, so I spent 2.5 years working in acute medicine.
This provided me with core nursing skills, however I didn't feel fulfilled. I applied for a position of a Fertility Nurse Specialist at a local private clinic and spent just over 6 years in that position. I felt it was linked to family planning, however i was just helping to create them rather than prevent. As part of my role I recruited egg donors and part of their pathway was to have a sexual health screen. During my time as a Fertility Nurse I volunteered for Sexual Health Sheffield as a Sexual Health Champion and often frequented local festivals and club nights providing sexual health advice and condoms.
What education/courses/modules have you undertaken to equip you for the role?
I have now completed the BASHH Competency course and just awaiting my completion date for the FRSH diploma.
How do you see yourself developing your skills?
I would like to continue in my role and learn skills of implant fitting and complete a Nurse prescribing course.
What is your long-term career plan?
Implant training, nurse prescribing and becoming a nurse practitioner.
What advice would you give someone thinking about moving to work in sexual health?
If it is an area you are interested in, then go for it. It is a lot of training initially and a lot of studying, but really interesting and only adds weight to your CPD. There is always something new each day and you will never stop learning!
What do you most enjoy about this area of care?
It is different every day! I love to educate younger service users about sexual health and contraception. Even if it just changes one person's thought process, it is worthwhile.
Name: Kerry Carruthers
Job title: Health Advisor
Organisation: Spectrum Community Health CIC, based at Wigan and Leigh Integrated Sexual Health
What is your current role?
I am currently a Band 6 Health Advisor in training within a level 3 integrated Sexual Health Service. A new role to this department.
What was your route to this role?
I completed my adult general nursing in 1997. My initial post once qualified as a Staff Nurse was in an Infection Unit in Aberdeen, this was where, I had my first insight into GUM, nursing patients with HIV/AIDS. I then went to work in another specialty of great interest to me, Haematology where I remained for 5 years.
As it was a transplant unit, I became a chemotherapy nurse. This was emotionally difficult and as I had always had a keen interest in sexual and reproductive health, I took the opportunity to gain some women's health experience and became a Staff Nurse in a Gynaecological ward, self funding a contraception course.
Briefly I moved on to Occupational Health Nursing for the same trust, to have an awareness working in a non clinical based environment. As I wanted to progress within GUM, I moved to Greater Manchester and initially undertook a Practice Nurse role, to gain insight into primary care and to be able to develop contraception, cytology and sexual health training and qualifications.
What prompted you to do this role?
My Practice Nurse role confirmed to me that working within Sexual & Reproductive health was an integral part of overall health and well-being. Supporting sexual well being irrespective of an individual's background and sexual orientation continued to interest me and the need to assist in public health concerns spoke for its self. I applied as a clinical Nurse specialist to Bolton Foundation Trust Integrated Sexual and Reproductive Health Service.
I continue to work within the same department nearly 11 years on. Spectrum CIC were commissioned to provide the ISHS in Wigan in March 2018. My current role is central to the control of STIs and HIV. The need for a Health Advisor was identified national Sexual Health strategy 2001 and Spectrum recognised the importance of having a Health Advisor to ensure public health outcomes are met.
What education/courses/modules have you undertaken to equip you for the role?
BASHH STIF certificate
Certificate In Cervical Cytology/screening
University Advanced Certificate in Contraception and Reproductive Sexual Health Care
Higher Education In Sexual Health, University of Bolton
Faculty Nexplanon Certificate
Partner notification certificate Sheffield March 2019
Funding also has been approved to commence my STIF Sexual Health Advisors Certificate.
How do you see yourself developing your skills?
My 10 years experience within a level 3 integrated service have given me the opportunity to take on the role of the Health Advisor, to utilise and incorporate the skills I already have and with ongoing training in house and externally, my knowledge will continue to expand in regards to Health Advising and benefit my patient's pathway. The importance of the SH advisor cannot be underestimated.
What is your long-term career plan?
As I continue to remain passionate about Sexual Health, I wish to remain within this specialty and further develop leadership and managerial skills. I am currently developing the Health Advisor Role within this service, providing treatment and additional support to patients who have had been diagnosed with an STI and ensuring effective partner notification. I am currently working towards gaining the appropriate Health Advisor qualifications.
What advice would you give someone thinking about moving to work in sexual health?
To follow the BAASH, STIF and faculty competencies as a clinical nurse specialist within an integrated Sexual Health service initially, to build the knowledge and skills needed as a platform for Health Advising.
What do you most enjoy about this area of care?
It is interesting working with a diverse client group and I enjoy providing support and information to empower people to maintain good Sexual and Reproductive Health. This begins with education. The HA role allows me to have the time to support in a variety of ways , for example giving advise and treatment to patients diagnosed with an STI, discussing risk factors with people who have required PEPSE and providing support to those who have been subjected to sexual assault . I enjoy being able to provide treatment for STis in a timely fashion and it is satisfying to to know I am contributing to wider public health by ensuring effective partner notification and prevention of onwards transmission of STIs to others. I also enjoy supporting my colleagues within the department to assist in the flow of a busy clinic and create a smooth patient journey. The Health Advisor role is a key component in the ISHS meeting its key public health objectives.
Name: Mirelle Harris
Job title: CNS Clinical Nurse Specialist Contraception & Sexual Health
Organisation: East Sussex Healthcare NHS Trust, Eastbourne
What is your current role?
To provide complex contraceptive and sexual health care and advice within a clinic setting. Both booked clinics and 'walk in and wait' provision.
Weekly LARC clinics providing both booked and opportunistic IUD and Implant fittings.
LARC training.
What prompted you to do this role?
To provide sound, empirical contraceptive and sexual health advice within a non judgmental setting. To empower women to make decisions regarding their bodies and fertility. To help young people understand consent and ensure their sexual experiences are not learnt from pornographic material. To support young people with their sexuality.
What was your route to this role?
Previously working in media, both television and radio.
Working as a complementary therapist with Sure Start and in Holloway on the 'Mother & baby unit'.
I independently write and present podcasts in my specialist area.
What education/courses/modules have you undertaken to equip you for the role?
CASH, Mentorship, Non-medical prescribing, LOc training in Implants & IUDs, Course of 5, SRH essentials, safeguarding, mandatory training, Gynaecology oncology module.
How do you see yourself developing your skills?
I love the clinical time, working with patients alongside a good team on the clinic floor. I do not want to move away from clinics, but I would love to combine this with an operational role.
What is your long-term career plan?
I love my role in my current clinic.
What advice would you give someone thinking about moving to work in sexual health?
It is a changing role and the future is uncertain, financially, but the role itself is as important as it has ever been with a lot of potential for progression. There is a lack of consistent sex and relationship education in schools, with a lot of access to the wrong type of education on the internet. We are in a privileged position to guide and support people at different stages of their life and sexual health.
What do you most enjoy about this area of care?
Everything.
Name: Sue Hansford
Job title: Head of Service, Sexual Health
Organisation: Spectrum Integrated Sexual Health, Wigan and Leigh
What is your current role?
I currently work as the Head of Service for Spectrum integrated sexual health services in Wigan and Leigh.
What was your route to this role?
I began nursing in 1979 at North Manchester General Hospital and qualified as an SRN in 1981. I had particularly enjoyed the brief placement Id had on the maternity unit so began my midwifery training there after working as a staff nurse on a care of the elderly unit. I loved midwifery, particularly the patient contact and the privilege of looking after women and their partners at a very special time in their lives. I completed my "family planning" qualification whilst working as a midwife, this seemed a natural fit with midwifery as it enabled me to advise women on contraception in the post natal period. I also completed my smear sampling course. I stayed at North Manchester working as a staff midwife and then as a midwifery sister. I had a role as an out of hours community midwife working between the hours of 8pm and 8am. This was a very interesting role as it covered the whole of the north Manchester area. I also continued to do my sexual health work on a part time basis.
In 1989 then went on to become a community Midwife at Tameside General hospital. I was still working in sexual health in both adult and young peoples clinics. I became a Supervisor of Midwives and completed my BSc Hons Midwifery. I then became a lecturer Practitioner in Sexual Health at Manchester University. This was a secondment from my midwifery role. I was able to work with nurses who were completing their post graduate sexual health qualification which would allow them to work in sexual health clinics. I loved this role as I have always been enthusiastic about promoting sexual health. At the same time I began working for Brook who were specialists in Young people's sexual health. I really enjoy working with young people it is challenging but very rewarding too. I gained valuable experience working at Brook in particular with safeguarding. I continued with my professional development whilst in this role and completed my Masters Degree in Health Care Ethics and Law. I chose this masters degree because I think there are lots of ethical issues in sexual health and I felt thinking around these issues would help me in my daily role.
I decided that I wanted to work in sexual health full time and was successful in gaining a post as a Lead nurse in a community sexual health service in St. Helens in 2005. This involved managing the nursing and administrative staff in the service as well as continuing with my clinical work. I stayed in this post for 11 years seeing the service change from being a PCT based service to becoming an integrated sexual health service in an acute trust. Working as part of an Integrated service allowed me to start to develop different skills as part of a GUM service. It was a steep learning curve and meant that we had to rethink how we delivered services within the community as well as equipping nursing staff to have dual skills in both contraception and GUM. I also did a management certificate, prince 2 project management and a mediation course with ACAS. I continued to work clinically in sexual health despite my management role. I completed my NMP course in 2016.
In 2016 I took up a new role as Nurse Manager with Brook in Oldham and then Manchester. I really enjoyed going back to work with young people and with Brook again. My role was both clinical and managerial. I moved to my current post in July 2018.
What prompted you to do this role?
I have always had an interest in sexual health from when I worked as a midwife. I wanted to be able to give women in my care reliable advice on contraception and their sexual health. I also like working with young people to empower them to be able to make informed choices about their sexual health.
What education/courses/modules have you undertaken to equip you for the role?
I have completed a degree in midwifery and a masters degree in Health care ethics and law. I have completed the STLF course and hold the Letter of Competence for sub dermal implants. I have completed the course of five and hope to complete my Diploma in sexual health shortly.
How do you see yourself developing your skills?
I would like to use my NMP qualification more within this service. I enjoy management and would like to develop my management skills as Head of Service.
What is your long-term career plan?
My long term plan is to continue to work in sexual health. I would like to encourage more nurses to think of sexual health as a career option rather than an addition to their substantive role and look at ways in which we can encourage nurses into this type of service so that skills and expertise can be passed on to a new generation of nurses.
What advice would you give someone thinking about moving to work in sexual health?
I would say that it is important to get a robust general training first to be sure that you want to specialize in this field. You will need not just theoretical knowledge but practical experience too. You will also need a non-judgemental approach and a desire to be able to empower patients by giving them knowledge to be able to make informed choices.
What do you most enjoy about this area of care?
Every day is different and sexual health is a very dynamic area of nursing. It is a very rewarding area of nursing to work in.
Name: Ruth Bailey
Job title: Nurse Team Leader, Sexual Health and Contraception
Organisation: Brighton and Sussex University Hospitals Trust
What is your current role?
I lead a nurse delivered contraceptive clinic as part of this service and I fit diaphragms, implants and coils. I am a line manager, I contribute to the service management team I have a responsibility for developing Governance regularly teach learners at all levels including pre and post grad Nurses, medical and pharmacy students and junior doctors.
What prompted you to do this role?
I am passionate about women's health and see contraception a sexual health as a feminist issue. Sexual Health is hugely diverse, often working with disempowered vulnerable members of society. I see it as an area where Nurses can make a massive contribution to care, enabling people to take control over their own wellbeing.
What was your route to this role?
I fell in love with contraception as a practice nurses when I did my CASH module as part of my Community Nurse Specialist BSC. I enjoyed my placement so much, that I continued to work on the bank at the clinic, after I completed my course. I worked both as a practice nurse and a CASH nurse until a substantive post became available and I continued my career in this field. Three years ago, our service integrated so I developed skills in Sexual health.
What education/courses/modules have you undertaken to equip you for the role?
MSc Nursing Studies
BSc Community Specialist Practice (Including cash AND Cervical Screening modules)
HIV ed STIFF course
FSRH Diploma
Letter of Comp SDI and IUDs
How do you see yourself developing your skills?
To become FSRH Trainer and Non-Medical Prescriber.
What is your long-term career plan?
To continue to develop expertise and to work in a developing country.
What advice would you give someone thinking about moving to work in sexual health?
Just do it!
What do you most enjoy about this area of care?
Autonomy in nurse led clinics
Independently managing episodes of care
The diversity of the role and the breadth of technical skills
I love it when I fit a coil and a patient says "That wasn't nearly as bad as I thought it would be"
Page last updated - 13/07/2023