Developing Leadership Programme
Leading in times of change
The Developing Leadership Programme is designed to help you be an effective role model and bring about positive changes whilst promoting a team approach that is inclusive, vibrant and supported by continuous learning. This programme has been developed for nursing staff Level 5 or equivalent.
About this programme
Healthcare delivery is evolving and many registered nurses work in increasingly demanding roles, face competing priorities, increased expectations and shifting perceptions of the role.
This two-day programme is suited for both the NHS, independent sector and third sector organisations. This is ideal for organisations who would like to invest in a group of aspiring leaders.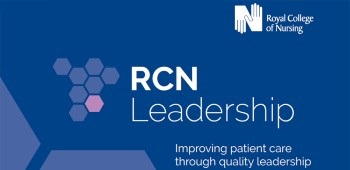 On this programme you will:
Understand the characteristics of effective leadership and how this underpins your role.
Develop skills to positively influence those around you including colleagues, managers and the wider health and social care teams.
Learn to identify and challenge barriers which have an impact on the safe delivery of care.
Develop strategies for developing resilience and maintaining momentum during times of change.
Mode of Delivery
This programme is delivered over two days, which are separated by one to two weeks to encourage reflection during the programme.
This programme can be commissioned to be delivered at your workplace for a cohort of up to 15 staff members. For more information please email our leadership team.
We also run a number of programmes which are open to individual applicants. To register your interest as an individual applicant, please complete the form below.
Cost
£315 plus VAT for programmes delivered to individual applicants (price per delegate)
£4,725 plus VAT for programmes delivered virtually and £5,525 plus VAT for in-person delivery to your organisation (for a cohort of 15)
Programme content
Day 1
Concepts of leadership
Being a role model
Being accountable
Raising concerns
Record keeping
Responsible social media
Upholding standards
Day 2
Resilience
Being a change agent
Practice based learning and promoting teamwork
Evidence based learning
Your role in leadership

RCN Developing Leadership Programme 
Please note, the RCN Developing Leadership Programme currently being delivered virtually, via Zoom.
Programme dates for individual participants:
Spring 2024 - virtual delivery

Day 1: Thursday 29 February 2024
Day 2: Thursday 14 March 2024
Summer 2024 - In-person at RCN HQ, London
Day 1: Thursday 20 June 2024
Day 2: Thursday 4 July 2024
Autumn 2024 - virtual delivery
Day 1: Thursday 24 October 2024
Day 2: Thursday 7 November 2024
Please complete the form below to register your interest in the Developing Leadership Progamme.
RCN Leadership programmes
RCN Leadership is a suite of bespoke programmes, giving you the confidence to lead positive and effective change within your organisation.
If you are interested in this course, you might also like:
Valuing Forums: Nurses in management and leadership
RCN Nurses in Management and Leadership Forum
RCN Facebook groups are a place where you can get involved in honest and open discussions on the issues that affect you and your field or practice.