Checklist to Assist Healthy Financing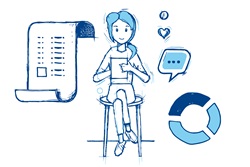 So you have qualified – that's amazing. Either you have secured your first (post-qualification) nursing job, are currently looking for one, or are considering your next steps …

One of the things that might be playing on your mind is your bank balance and how you are going to plan your finances in the coming months and years ahead.

Whether you are going straight into employment or need time to apply for your first post-qualification post, spending a small amount of time taking stock of your financial situation can make all the difference.

Remember, you will officially be a student until the last day of your course – even if you have finished your final exam or placement earlier than this date.

Every graduate's situation will be different. Your financial circumstances will depend on whether you have taken out government student loans, have overdraft facilities, have worked on a paid placement as part of the Covid-19 provisions, are living at home or have to wait before starting your first job as a registered nurse.

Using some or all of the steps below, as a quick-start checklist, will help ensure you start your postgraduate life on the right financial track.

More detailed information about claiming benefits and affordable housing options can be found in the relevant section of this resource.
If you are already very worried about your finances and feel like you need some specialist debt and money advice go to the Member Support Services page for further details of the RCN Debt and Money Advice Service.